Quick-Change Toolholders Boost Reliability, Productivity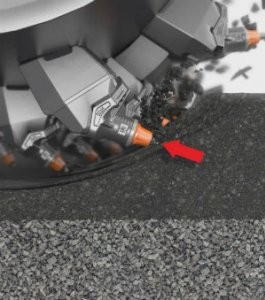 The HT22 quick-change toolholder system from Wirtgen provides maximum milling performance and cost efficient operation.
With its HT22 quick-change toolholder system, Wirtgen has a system that will minimize downtime and increase the service life of both the milling drum and point-attack cutting tools, the robust upper part of which can be quickly and easily replaced directly on the job site.
Cutting technology is a core competence of Wirtgen, and is the heart of its cold milling machine technology. Its continuous development by Wirtgen engineers is always aimed at increasing the performance and cost efficiency of cold milling, and offering customers reliable solutions. With the HT22 system:
• A longer service life with less downtime is attained via the significantly enlarged contact areas between the upper and lower parts. High cutting forces are reliably transferred to the lower part of the quick-change toolholder system, substantially increasing the useful life of the milling drum
• A larger shank cross-section and the optimized shank geometry increase the strength of the shank, thus providing greater resistance to undesired deformation
• The maximum longitudinal wear of the upper part of the toolholder has been doubled in relation to that of the conventional version
• Finally, the higher pretensioning forces resulting from an optimized screw position provide for the reliable system pretensioning of the upper part in the toolholder's lower part. As a result, service intervals have now been extended from 250 hours to 500 hours thanks to the system's overall more robust construction.
All new Wirtgen cold milling machines have been equipped with the new HT22 quick-change toolholder system since October 2013. Machines put into service earlier can easily be retrofitted with the new system, providing customers with the ideal tools for future milling jobs.