Field-Proven Thickeners Help Producers Eliminate Settling Ponds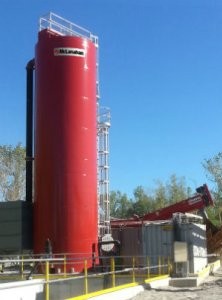 Some of the biggest struggles that producers face today are issues of safety and sustainability. Processing plant growth can be greatly limited by the struggle to receive permits or by limited land resources.
With those struggles in mind, McLanahan Corporation has developed a Deep Cone Thickener to help producers do more with their existing resources and meet those challenges head-on. Deep Cone Thickeners help producers reduce or eliminate the need for settling ponds and other structures. They are meant to achieve the highest solids concentration possible through gravity separation.
Engineered by McLanahan Corporation, producers can be certain that this piece of equipment is designed not only to help them do more with their resources, but also to be a safer, simpler and smarter solution.
· Deep Cone Thickeners reduce the settling pond footprint, making them safer for the environment and site personnel.
· With no full-time operator required and rarely being designed with moving parts, they are simpler for mineral processing operations.
· Producers with Deep Cone Thickeners have a smarter operation because they have control over the dewatering process and have recycled water immediately available for their operation.