Brokk Realeases Largest Demolition Robot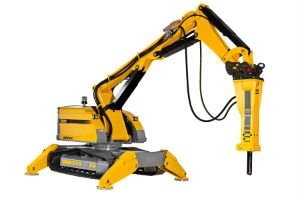 Brokk, has released the 800S demolition machine to the North American market for the first time. The Brokk 800S is built for extreme tunneling, mining and construction work, and the Brokk 800P is for hot ladle, converter cleaning or whole refractory renovations in metal processing industries.
The Brokk 800S features Brokk's signature three-arm system, and offers a maximum reach of nearly 30 feet. When equipped with the included Atlas Copco MB 1000 breaker, the Brokk 800 robots produce 1,500 foot-pounds of force at the tip of the tool, nearly twice the hitting power of the Brokk 400.
Brokk specially designed the 800P with added heat protection for use in challenging process applications. It includes an extra-durable, heat-protected SB302 hydraulic breaker to work with hot ladles, runners and furnaces, and the machine delivers 450 foot-pounds of force at the tip of the solid-body hammer. The Brokk 800P's three-arm system rotates 360 degrees to reach challenging angles with precision, and offers an impressive reach of 31.5 feet.
The Brokk 800 machines feature the same compact design and power-to-size ratio as all Brokk units, for effective work in smaller, more restricted spaces. They are powered by 60-horsepower electric motors for safe, emission-free operation in confined areas or can be equipped with diesel engines. And, like all Brokk machines, their remote-controlled operation allows operators to remain a safe distance from work so there is less risk of injury from hazards such as high heat and falling debris.
The Brokk 800S weighs 24,310 pounds excluding attachments, and the 800P weighs 24,838 pounds without attachments. Both are able to carry attachments up to 2,465 pounds, including beam grapples, buckets, drilling equipment and shotcrete units. In all, Brokk offers eight models in a variety of sizes and capacities. The smallest, the Brokk 60, weighs about 1,100 pounds. The company also can modify its machines with special equipment such as cameras, extended arms, side-angling devices and cable drums to work within unique applications.
Company info
Related products