XL Trailers introduces XL 130 HDG Multi-Axle Trailer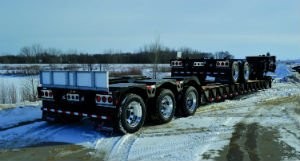 XL Specialized Trailers has introduced the new XL 130 Hydraulic Detachable Gooseneck (HDG) Multi-Axle trailer. The trailer has been specifically built to travel over tough and rugged terrain at job sites.
Rated at 130,000 pounds capacity overall and 130,000 pounds in 10-feet concentrated, the XL 130 HDG is perfect for hauling larger construction equipment. The hydraulic multi-axle unit includes a three-axle trailer, two-axle east coast booster, and two-axle jeep (with a pin on axle on the jeep). The jeep is designed for higher versatility and allows for a better load distribution. The XL classic-style hydraulic gooseneck is 12 feet, 5 inches long and includes a 49-inch fifth wheel height with seven ride height positions as well as a 72-inch flip neck for the two-axle jeep.
The main deck is 9 feet wide and has a length of just over 26 feet with a ground clearance of 8 inches. The width of the main deck can be extended to 11 feet with 12 inch heavy-duty removable swing out outriggers. The main deck is also outfitted with five bent D-rings and four pan-style D-rings per side and 31-inch front flip ramps. An open boom trough goes into a 5-foot bucket well with a steel plated bottom on the rear bridge for added durability, and the design also allows the boom to be knuckled under without hitting or damaging the cylinder. The deck also features 1 ¾-inch raised apitong decking – a wood stronger than oak.
The rear deck is 14 feet, 2 inches long with a loaded deck height of 43 inches and includes a battery back up for the strobe lights. The trailer has an airlift on the third axle to reduce wear and frame reinforcement for the two-axle booster. The rear deck also possesses raised heavy-duty load-bearing wheel covers for equipment to be parked on.
For extra versatility, the XL 130 HDG connects different ways for scaling with an east coast booster and can be run as a five-axle, 3 + 2, or 4 + 1.
"The new XL 130 HDG Multi-Axle trailer is flexible, versatile, rugged and incredibly durable for a variety of offerings in the construction market," said Rodney Crim, Director of Sales at XL Specialized Trailers. "We at XL Trailers greatly value our customers, and this is another example of us meeting customers' needs.