Bell Flagship B50D and new E-series trucks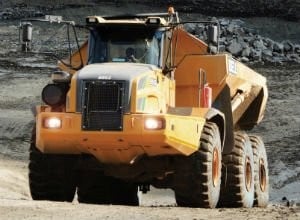 Global Articulated Dump Truck (ADT) specialist, Bell Equipment, aims to build on the success it has achieved since its return to the North American markets last year by introducing the new Bell E-series generation of haulers at ConExpo in March, at the company's exhibition stand in the Silver Lot.
The Bell E-series includes the smaller B25E and B30E models, which live up to the Bell design philosophy to provide class leading power to weight-ratios, advanced engine and drivetrain characteristics, while setting new standards in safety, driver comfort and truck management.
The new Bell E-series is a world class product showcasing improvements Bell has made in the key areas of class leading performance and fuel efficiency. ADT functionality has likewise been taken to new levels with customer-focused advancements and the highest level of automated machine protection. The all-new truck platform has been specifically engineered to handle future emissions requirements and take ADT innovation into the next era.
President of Bell Equipment North America (BENA), Neville Paynter says: "The Bell E-series feels like a long awaited occasion due to the fact that we couldn't launch a small machine in the market until January 2014 and we are confident that the E-series will quickly establish itself as a solid workhorse."
He adds that Bell Equipment will also target the larger truck market in 2014 with its B50D, the world's first and only production 50-ton artic hauler. Drawing from the vast experience Bell Equipment has in the development and manufacture of ADTs, the B50D has an illustrious decade-long track record elsewhere in the world.
Commenting on Bell Equipment's first year back in the territory, Paynter reports that initial market penetration has been better than expected due to the dedication and commitment shown by the appointed distributors and Bell Trucks America (BTA), the joint venture formed by Bell and several renowned U.S. construction investors to establish and manage a nationwide Bell distribution network.
Wajax Equipment is the appointed distributor in Canada territory while BTA has appointed 10 dealers in North America, namely: Four Seasons Equipment Inc. in Houston, Texas; Hills Machinery in South Carolina and North Carolina; Heavy Equipment Rentals & Sales LLC, in Corona, California; and Highway Equipment Company in Western Pennsylvania, Riverbend Machinery in Colorado, Earthmovers LLC in Florida, Harter Equipment in New Jersey, Orion Equipment in Washington, Newman Tractor in Kentucky and Tracey Road Equipment in New York State.
Paynter says: "The BTA business footprint covers about 19 specific territories that we have mapped out. This is really exciting for us considering we set ourselves the target of appointing four or five dealers in 2013."
He adds: "We've been very selective in our dealer appointments because we're here for the long run. We want to build sustainable relationships and not just move trucks in the short term. This year we will continue with the dealer appointment thrust and at the same time build on our support to the dealer network. We will be very active in working with dealers to make retail sales to their customers to ensure we get the right numbers for 'first in dirt' sales."
More from Roadbuilding
A bottleneck of haulers waiting to be loaded is inefficient. Idle machines burn unnecessary fuel, increase maintenance costs and decrease resale values when you're ready to trade them in.
When you pair the new Volvo EC950F crawler excavator and A60H articulated hauler, you can load trucks faster. The EC950F can utilize a 10-yard bucket to fill a 60-ton capacity A60H in only four passes — reducing passes lowers fuel consumption and drastically speeds up cycle times to keep your haulers moving. See how the massive EC950F and A60H improve cycle times and more to boost your profitability.