Real-time tracking for Bell Fleetmatic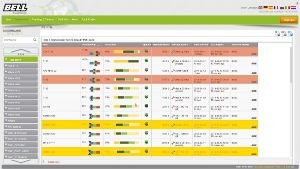 Ten years ago Bell Equipment became the world's first OEM to design and implement its own fleet monitoring system; now a decade later the company has fine tuned and upgraded the system to offer real-time tracking as an industry first and set a new benchmark in user friendliness.
According to Bell Equipment's Fleetmatic Manager, Pieter Bester, the company engaged customers in Germany, France, the United Kingdom and South Africa to get an understanding of customers' immediate needs and focus points. "Fleetmatic has always offered accurate and detailed technical and production information but some customers said they were overwhelmed by the volume of data. We have taken their comments onboard and now present the information with a much more user friendly interface.
"Importantly we are not taking away any information; we are just changing the face of Fleetmatic. For example, the old automated reports are a popular feature of [email protected] and will still be emailed to a customer's inbox. Likewise, customers will still be able to use data from our standard onboard weighing system for invoicing purposes," says Bester.
A new-look website is integral to the improved user friendliness and will be launched in English, German and French with Russian and Spanish following soon.
"Previous generations of Fleetmatic allowed customers to access their Fleetmatic data after configuring Java or Citrix environments on their own computers. In contrast, the latest version of Fleetmatic is ready-to-go making it less complicated for our customers. The aim of the new website, which utilises Google Maps technology, is to offer a multi platform solution that can work with any modern browser. This also makes it compatible with mobile devices such as tablet computers. We integrated with Google Maps because it is well known, offers quality maps and is uncomplicated to use," says Bester.
Fleetmatic Product Developer, Deon Joubert said the structure and design of the website is focused on presenting information to the customer in a more sensible and practical way, with emphasis on production data. Customers are also able to filter and group live data to make it even easier to consume. "After signing in on the Fleetmatic website a Google Map is displayed to provide a map overview or of all the machines in the fleet as well as indicating the location of nearby Bell Customer Service Centers. The 'Dashboard' presents the current status of the fleet or individual machines at a glance so the customer can immediately get a feeling of what is happening on his machines without having to delve around for the information. 'Dashboard' information includes the machine's hours, location, ignition status, next service date and the most recent key production parameters," explains Joubert.
"Seasoned Fleetmatic users will be happy to see the 'Timebar', which enables a customer to analyse at what times a machine has been operational. 'Shift Info' shows information like hours operated, tonnes moved, fuel consumption, total cycles completed and more," he adds.
An innovative feature is the 'Alert Ticker', similar to tickers used by TV news programs, which has been introduced along the bottom of the webpage to display high priority alerts. The website's interactive nature allows customers to acknowledge these alerts. "For example, there may be several events indicating that a specific operator prevents his Bell ADT from automatically cooling down its turbo. Acknowledging such events makes it easier for a fleet manager to take proactive steps and, if necessary, improve operator training. In the long run this will help to ensure that his fleet remains operational and productive for as long as possible," says Joubert.
Commenting on the benefits of Fleetmatic, Bester adds that the system has become an important tool to ensure that onsite safety regulations and requirements are met. "Taking this into consideration we are reconfiguring the geofence feature to increase vehicle safety by facilitating geofencing in multiple zones based on speed limitations related to load, inclination and site conditions. For example on some mining sites certain haul roads are designated only for rigid trucks and a customer would be able to create a geofence to ensure that his ADTs do not use these haul routes. Similarly if there is an area that is deemed not suitable for tipping, a suitably configured geofence would be able to prevent the tipping function in that area."
Fleetmatic is now available in two packages. The Standard package is fitted to every Bell ADT during the manufacturing process to provide fleet owners with aggregated data from the previous day or use configured shift and offers comprehensive productivity data.
By comparison the Premium package now offers minute by minute real-time tracking in addition to the previously offered event- and tip-cycle driven data.
Bester says: "In 2008 we took a major leap forward by being the first OEM to offer real global coverage when Iridium became our service provider with their pole-to-pole coverage. This, together with the superior transceiver technology supplied by Quake Global, enables Bell Equipment to offer its customers the best satellite monitoring system in the world.
"Now we are introducing GPRS monitoring which uses cell phone networks to complement our satellite coverage. This allows us the luxury of transmitting higher volumes of data, which makes real-time tracking viable."
"Fleetmatic is a true leader in the monitoring of heavy equipment fleets in terms of the information that we provide to our customers. With these latest enhancements we are confident that Fleetmatic offers our customers even greater value by being able to efficiently integrate Fleetmatic data into their operations for improved safety and productivity," he says.