Sany SCC8100TBXL Telescopic Boom Crawler Crane Has Power, Performance and Operator Comfort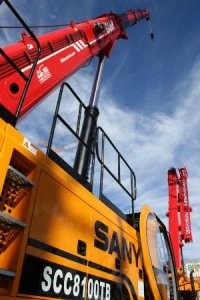 With a five-section, telescopic boom upperworks combined with a crawler lowerworks, the new SCC8100TBXL model provides the dual advantages of a crawler crane and hydraulic crane.
The machine features a boom that uses heavy-duty nylon rope instead of the commonly used steel cable, enabling a lighter weight boom design with no sacrifice in boom strength. The machine is particularly well suited for road and bridge building.
The SCC8100TBXL crane has a maximum lift capacity of 110 tons (100 metric tons), a maximum boom height of 155.8 ft (47.5 m), total counterweight of 81,570 lb (37 000 kg), and maximum gradeability of 60 percent (31 degrees). A 300-hp (224-kW) Cummins QSL9-C300 Tier 4 Interim-certified engine powers the SCC8100TBXL crane. Its Porsche-designed UltraCab 2 provides optimum operator comfort and safety.
"The SCC8100TBXL fills a strategic position in the Sany product lineup," said Kyle Nape, senior vice president, Sany America Lifting Group. "It's a competitively priced, high-performance crane that meets the needs of a variety of applications, including road and bridge building.
"Contractors will appreciate this crane's maneuverability and stability on any jobsite. Because it's set on a crawler base, the SCC8100TBXL sets up quickly without the need for outriggers. Its telescopic boom is ready for use without the setup time that fixed-boom cranes require."
Like other Sany cranes, the Sany SCC8100TBXL offers superior control and reliability through its Rexroth hydraulic system.
The five-section telescoping boom is made from high-strength steel plate using a multi-folded process. The use of greaseless composite bearings greatly reduces periodic boom maintenance. Two single-stage, double-acting extension cylinders power the boom.
"Including the SCC8100TBXL, Sany has brought ten new models to this marketplace since 2010," Nape said. "These product introductions demonstrate our commitment to the North American market."
UltraCab 2 provides operator comfort, control
Operators will find a combination of comfort, control and safety features in the Porsche-designed Sany UltraCab 2, which provides enhanced ergonomics, large windows for clear visibility, heat and air conditioning, and well-placed function screens and video monitors to enhance operator control.
Sany-designed and manufactured electrical and intelligence systems on the SCC8100TBXL crawler crane ensure quality, efficiency and high performance.
Base machine weight of the Sany SCC8100TBXL is 99,208 lb (45,000 kg). Its transport size is 46 ft (14 m) long and 11 ft 6 in (3.5 m) wide and 10 ft 6 in (3.2 m) in height. It is available with two counterweight configurations – one totaling 37,478 lb (17 000 kg), the other totaling 81,570 lb (37 000 kg).
Innovative features, smart operation and attention to operator comfort enable Sany cranes to deliver the lifting power, pick-and-carry capability and operating stability required on virtually any jobsite.
All Sany crane models use trusted, globally sourced systems and components – such as Cummins engines and Rexroth hydraulics – for superior reliability, serviceability, cost-efficiency, high performance and ease of operation.
More from Cranes & Lift
The all-new CASE TR340B compact track loader — operating at 90 horsepower with a 3,400-pound rated operating capacity — is the most powerful radial-lift CTL in the CASE lineup. Its all-new 8-inch LCD display improves on industry-leading CASE visibility with a new backup camera that is viewable in both forward and reverse operation. The display also showcases critical operating information and "trip" details. All-new electro-hydraulic controls, managed through the display, make it easier than ever for operators to dial CASE CTLs into specific application demands. All new cab controls and joysticks make the new TR340B easy to own and operate.
Industries such as construction, mining, energy, utilities and forestry, face many challenges when it comes to tracking assets and employees. Equipment often has to be transferred between locations, or monitored while it is dormant during off seasons. Lone workers may have to travel long distances or visit multiple sites during the course of their activities. And, all of this is further complicated today with shifting supply chains and economic realities putting further strain on the bottom line.