Sany Introduces Its First Compact Excavators at CONEXPO-CON/AGG 2014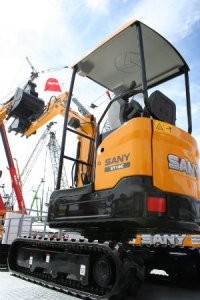 Sany America has expanded its hydraulic excavator product line with the addition of its first two compact models, the short-tail swing Sany SY16C and the zero-tail swing Sany SY35U.
The two new Sany compact excavators feature Tier 4-certified Yanmar engines and multi-functional attachment operation. The SY16C has an operating weight of 3,858 lb (1 750 kg), maximum dig depth of 7 ft 8 in (2360 mm) and bucket breakout force of 3,417 lbf (15.2 kN).
The SY35U has an operating weight of 8,333 lb (3 780 kg), maximum dig depth of 10 ft 2 in (3105 mm) and bucket breakout force of 6,834 lbf (30.4 kN).
"The Sany SY35U hits a sweet spot in the compact excavator market," said Eric Teague, vice president and general manager, Sany Earth Moving Division. "Approximately 25 percent of all compact excavators sold in North America are three- or four-ton class machines. It's a perfect size for utility work, landscaping and other applications that put a premium on maneuverability, but still require solid power."
The Sany compact excavator models join a product lineup that includes five standard-sized excavators, ranging from the SY75C, with an operating weight of 16,050 lb (7 280 kg), to the SY335C, with an operating weight of 79,860 lb. (36 224 kg).
"With advantages such as low fuel consumption, high productivity, durability, reliability and adaptability to a range of working conditions, Sany excavators are gaining quick acceptance among North American contractors," Teague said.
Compact models offer competitive strengths
In addition to adding competitive models in two popular compact excavator weight classes, the new Sany SV16C and SY35U machines provide a variety of capabilities that meet the needs of construction, utility and landscape contractors.
The SY35U features a zero-tail swing design, ideal for accessing tight job sites and working in confined spaces. An enclosed cab includes standard air conditioning and heating to keep operators comfortable in all weather.
The lightweight SY16C excavator offers a short-tail swing design for working productively in small spaces. The undercarriage is hydraulically extendible for greater jobsite stability. An open ROPS/FOPS operator compartment provides excellent protection and visibility.
Various bucket sizes and styles, as well as other popular hydraulic-powered attachments, are available for each new Sany compact excavator. Both models feature a hydraulically controlled dozer blade for backfilling trenches and light grading of the jobsite. Positioning of hydraulic lines along the outside surfaces of the boom and arm facilitates easy service and quick coupling of hydraulic attachments for both models. Load-sensing hydraulics boost fuel economy and productivity. Both models offer two-speed travel.
Company info
Related products