Sandvik's new QI341 – The unique and versatile primary & secondary Impactor in one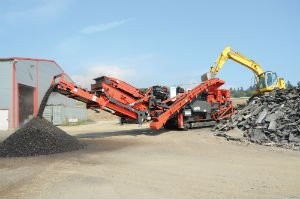 Built utilizing Sandvik's Prisec™ technology, the QI341 is one of the most versatile, compact mobile impactor in the market today. Capable of operating in primary and secondary applications, it has been designed with productivity, mobility, minimal environmental impact and user friendliness at its core.
The QI341 is now available with an optional hanging screen system, which will allow customers an even greater return on investment through the facility to produce accurately sized products for immediate use.
The QI341 utilizes market leading Sandvik impactor technology enabling the development of a fully mobile, compact impact crusher, designed to either work in a primary or secondary capacity, either independently or in conjunction with other members of the Sandvik product line, in order to produce materials of the highest quality.
Although designed for the recycling of construction materials, the state of the art Sandvik impactor design enables the QI341 to be the perfect impact crusher for the smaller quarry. Here its compact design is perfect where space and machine maneuverability are at a premium, but superb product shape and high levels of production are required.
Features of the QI341 include:
Sandvik Prisec™ impactor - the most flexible impactor currently available on the market designed to meet end product specifications.
Excellent reduction rations across a broad spectrum.
Fitted with a pre-screen for maximum scalping capability to prevent any undersize material passing through the impactor, thereby maximizing throughput and reducing wear costs.
Choice of pre-screen media to provide the flexibility to suit any application.
Fitted with an underpan feeder as standard for maximum belt protection, and to reduce any spillage issues generally associated with impact crushers.
The all new Sandvik Prisec™ crusher range has revolutionized the industry, giving customers the technology and efficiency it has long looked for and needed which has been delivered and is now available through the Sandvik Mobiles product range.
Company info
Related products