Hyundai Construction Equipment's HL780-9A Wheel Loader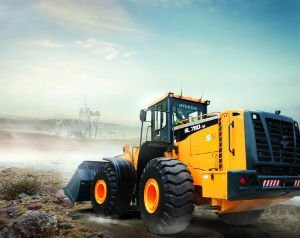 Hyundai Construction Equipment's new 9A series product line, all of which meet Interim Tier 4 standards, is ideal for recycling, quarrying, aggregates and timber yard applications. Operators will experience many upgrades with the HL780-9A including more horsepower and fuel efficiency, improved durability and serviceability as well as enhanced operator comforts.
Hyundai's HL780-9A loader is built with reliable components including an electronically controlled, fuel efficient, 351 hp (262 kW) Cummins QSX11.9 Interim Tier 4 & EU Stage IIIB engine. The loader has three engine modes, power mode for heavy duty work, standard mode for general work and economy mode for light duty work, giving operators the utmost flexibility and allowing for full power or reduced fuel consumption depending on the task. The HL780-9A is also equipped with a fully automatic transmission designed for minimum power loss, improved travel speed and low noise.
The HL780-9A loader has an operating weight of 66,800 lbs (30,300 kg), a bucket capacity of 7.1 cubic yards (5.4 cubic meters) and a bucket breakout force of 52,360 lbs (23,750 kg). For jobs such as loading high-sided trucks or hoppers where a higher dump height is needed, this machine is available in an extended reach (XTD) model.
HL780-9A HL780XTD-9A Operating Weight kg(lbs) 30,300 (66,800) 31,100 (68,560) Net Power kW(hp)@rpm 351(262)@2,000 351(262)@2,000 Breakout Force kg(lbs) 23,750 (52,360) 23,130 (50,990) Bucket Capacity m3(yd3) 5.4 (7.1) 5.4 (7.1)
Hyundai's HL780-9A offers many enhanced features for improved durability. This loader is now equipped with a long-life cooling system with relocated cooling fan and radiator designed to resist thermal shock, impulse and vibration. Operators will also find a redesigned steering cylinder lug and bucket link, made of steel cast, for additional strength and reliability. The new load sensing hydraulic system with a variable displacement piston pump and closed center main control valve is set to provide operators with efficient hydraulic power and additional energy savings. Other improvements include an enhanced axle to provide better driving over variable ground conditions and self-adjusting brakes, which automatically regulate disc clearance.
As always, Hyundai has kept operator comfort in mind with the HL780-9A model. Visibility has been improved in the newly redesigned, operator's cab. New rounded front glass and larger door glass will give operators a larger field view while the overall larger cab will provide operators with improved comfort. The HL780-9A also features an increased heating and cooling capacity using a fully automatic climate control system to provide optimum air temperature. Other amenities include a tilting and telescopic steering column, adjustable wrist rest for reduced operating stress, roller-type sunshades, heated side mirrors, multiple storage compartments, AM/FM radio with MP3 interface, USB output and hands-free Bluetooth capabilities. For further convenience, the HL780-9A is installed with an improved ladder with 20 degree incline, large deep tread and aluminum cast steps, making entering and exiting the cab much easier and safer.
An advanced feature of the HL780-9A model is a 5.7" touch screen, color monitor. Operators will appreciate the easy-to-read LCD display with a natural movement screen. The monitor also features an integrated load weighing system, giving operators valuable data to help improve work efficiency and prevent overloading. Self-diagnostics, a color rear-view camera, maintenance check lists and start-up machine security are additional features of the LCD monitor making it a versatile and essential device to have on-hand. The display unit is mounted on an adjustable swivel which can be rotated horizontally and vertically to meet the operator's preference and to avoid glare.
To ensure profitability, Hyundai has equipped the HL780-9A loader with enhanced service features and longer life components. Like all of Hyundai's equipment, this model will be equipped with the Hi-mate Remote Management System in order to prevent any unexpected maintenance or downtime. This system provides operators and dealer service personnel with vital service and diagnostic information on the machine from any computer with internet access. Capabilities of the Hi-mate system include pinpointing the machine's location, setting work boundaries, identifying working hours and fuel consumption and reporting of any daily maintenance needed.
Servicing is made easier with a tilting transmission and swing-open hydraulic oil coolers for quick access and regular maintenance checks. The HL780-9A also features conveniently located oil site gauges and ground line access to fuel and oil filters, grease fitting, fuses, machine computer components and wide open compartments.