Komatsu's New Hydrostatic Drive FH Series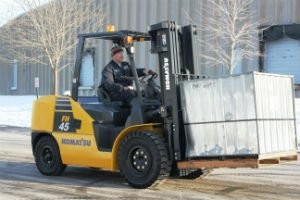 Komatsu Forklift U.S.A. is excited to announce that the new Hydrostatic Drive 9,000 thru 11,000 lb. capacity FH forklift . The new FH Series offers Komatsu diesel powered pneumatic tire models with 9,000 / 10,000 / 11,000 lbs. of capacity with Komatsu's exclusive Hydro-Static Drive System (HST), advanced Closed-center Load Sensing hydraulic System (CLSS), and KOMTRAX®, Komatsu's GPRS / GPS information delivery and tracking system.
The FH Series was designed to utilize highly reliable, field-proven drive and control components that have been used for many years in Komatsu construction equipment. The FH drive system is "Electronically-controlled Hydro-Static" or HST. These drive-line components have earned high marks for their quality and reliability in years of use in Komatsu construction equipment like wheel loaders and dozers.
The forklift's hydraulic system uses a variable displacement pump with "Closed-center Load Sensing" or CLSS that is a highly efficient hydraulic system used in Komatsu's hydraulic excavators. All FH Series models are powered by a Komatsu designed and manufactured diesel engine that features advanced engine technologies to achieve superior fuel economy, reduced environmental impact, and outstanding controllability. The new FH Series offers some great new features that will dramatically reduce overall operational costs.
Komatsu's HST / CLSS / and SAA4D95LE-5 Diesel Engine work in harmony to achieve significant fuel economy, especially in tough, high-cycle operations where fast-paced loading, unloading, and directional changes are prevalent.
New FH Series features include:
· Komatsuengineered and manufactured,electronically-controlled Hydro-Static drive system - HST
· Komatsu designed and manufactured turbo-charged diesel engine - SAA4D95LE-5, is Interim Tier 4 compliant without sacrificing power or productivity
· Spacious operator compartment with full suspension seat
· Tilt & telescopic steering console with small diameter steering wheel & spinner knob
· Fully hydrostatic power steering
· Airtight wet disc brake system to assure exceptional overall durability and low operational costs
· Closed-center Load Sensing hydraulic System (CLSS) that efficiently produces just the right amount of flow and hydraulic pressures demanded by the situation maximizing fuel efficiency
· HST drive allows for directional changes to be accomplished smoothly without releasing the accelerator pedal enhancing ease of operation
· Adjustable auto engine shutdown system prevents needless idling – saving fuel and operational costs
· Adjustable "Turtle" control switch offers four different control speed settings for precise speed control in tight working situations
The FH Series offers a perfect blend of power, performance, efficiency and operator comforts, allowing the operator to handle the toughest applications while maximizing efficiency and productivity. With excellent controllability and handling ease, the FH Series is the best possible choice for the most difficult and demanding applications. The tougher the application, the greater the cost savings generated by the efficiency and operational excellence of the FH series. The FH Series could have a dramatic effect for users looking to reduce their overall operational costs.
Another standard feature on the FH series is KOMTRAX®, an exclusive remote equipment and fleet monitoring system. Leading-edge wireless technology and a secure, user-friendly, web-based application provide critical information…anytime, anywhere. KOMTRAX® tells you where your machines are, what they are doing, and how they are doing it, providing total fleet management capabilities for improved fleet utilization, reduced downtime, and lower owning and operating costs. KOMTRAX® can help keep your machines operating at peak performance and provides useful information on operator habits and abilities. KOMTRAX® also provides the information you need to maximize output through increased efficiencies, just-in-time maintenance, and preventative maintenance.