Allison Transmissions latest off-highway smart controls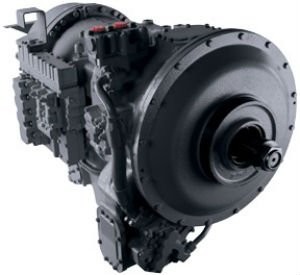 Allison Transmissions. discussed the features and benefits of its latest electronic controls technology for on- and off-highway vehicles at ConExpo.
"Allison's CEC3 upgrade is all about maximizing productivity and cutting fuel costs by adapting the vehicles to actual working conditions," said Chris Vargo, director of global off-highway marketing, sales and service for Allison Transmission. "And we are also making life easier for drivers – with a more convenient, time-saving oil level sensor, and of course, the control and handling of a fully automatic transmission."
The new generation of Allison's Commercial Electronic Controls (CEC3) features a remote oil sensor diagnostic that allows drivers to check oil levels from the cab, as well as two new pre-programmed shift schedules that provide owners with greater flexibility to optimize performance and fuel efficiency based on vehicle weight and terrain.
The CEC3 system is being integrated into select models by OEMs, and owners should see features being released in new vehicles throughout 2014. For on-highway construction models, Allison's 5th Generation electronic controls are also designed to get the most from every drop of fuel: 5th Gen controls automatically adjust shift schedules, acceleration limits and engine load based on weight, grade and other factors, while reducing downtime with advanced diagnostic and prognostic displays.
"Our controls – CEC3 and 5th Gen – are designed to keep trucks working harder and smarter," Vargo added.
While CEC3 represents Allison's latest innovation aimed at off-highway mining and construction trucks, it will not dominate the company's exhibition. That honor will undoubtedly belong to the H9610 model, on display to the public for the first time. The 4,000lb (1814kg) automatic transmission is used in 100-ton mining trucks. Booth visitors will have an up-close look at the Allison transmission that allows superior performance from these behemoth earth-movers.
"At Allison, we are proud to manufacture superior transmissions for nearly every possible vocation, from hybrid buses carrying urban commuters, to construction trucks hauling tons of dirt and overburden," said Vargo. "The H9610 demonstrates our continued commitment to the mining and construction industry – to engineering performance for heavy-duty trucks that work in some of the toughest conditions imaginable."
To encourage on highway construction fleet owners to switch to high-performance, automatic transmissions in their dump trucks and concrete mixers, Allison will continue to promote its 2014 construction incentive program at the show. New customers can 'Hit Pay Dirt' with savings on Allison Rugged Duty Series models for construction purchases made through the end of April 2014.
This 'Pay Dirt' incentive is available in the United States and Canada. With just under two months remaining for the program, Allison representatives at CONEXPO will encourage fleet decision-makers not currently using Allison products to capitalize on up-front savings that add to the long-term value in performance and productivity gained with Allison-equipped trucks.
"We are confident that a first-time Allison customer will become a long-term partner," said Lou Gilbert, director of North American marketing and global brand development for Allison Transmission. "Allison automatics deliver the traction and torque to keep trucks going, up and down steep grades, on soft surfaces and maneuvering in tight spaces – conditions where manuals and automated manuals tend to cause drive wheels to hop and damage the drivetrain. We know that on a construction site, downtime isn't an option."
Trucks with Allison automatic transmissions will also be exhibited by Mack, Navistar, Hitachi Construction, Kenworth and others.