Terex® Environmental Equipment Exhibit At Conexpo For The First Time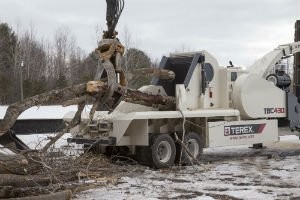 Terex Environmental Equipment a manufacturer of wood processing and recycling equipment exhibited its newwhole tree biomass chipper TBC 430 at last weeks Conexpo.
Marty Dummigan, TEE Global Product Line Director, said, "We are exciting to be attending Conexpo for the first time and exhibiting one of our large equipment product. We have spent the last 12 months really listening to our customers and have had a strong and rapid product development program to give our customers what they need from our equipment and improving the functionality of our products. We look forward to meeting with customers and discussing the features and benefits of our improved product portfolio."
TEE also launched their new color scheme which has been introduced in 2014 for the large biomass and recycling equipment.
Terex Biomass Chipper 430
Terex Environmental Equipment manufacture a comprehensive range of whole tree biomass chippers. The heart of the 400 series is the massive 50" diameter drum in all three models. These are the largest drums in the industry which help improve efficient and reduce fuel consumption. The drum as a 1" drum skin, full pocket cutting surface, bolt in replaceable wear parts. The drum gives the Terex 430 a mechanical advantage in the cutting attack angle, wear, longevity, kinetic energy and fuel efficient.
The large in-feed system and opening enables efficient feed to slash, limbs, short wood and whole trees. Terex chippers use a full knife pocket across the face of the drum to produce superior high quality chip and faster load times.
The TBC 430 can product up to 80 tons per hour of quality biomass and is able to accept short end cuts up to 24" in diameter. The TBC 430 cuts with a 50" diameter by 30" wide drum turning at 700 rpm's for smoother cutting and increased torque.
Standard equipment includes: dual stabilizer legs, skidder grab plate, air brake, wireless remote control, Eaton ME drive motor and Terex Eaton FX computer control system.
The TBC 430 is available in two configurations: the standard two behind and track drive. Both can be equipped with optional and or screen and blower systems.