GOMACO's GP-2400 Adds Easy Width Changing Capability with V2 Variable Width Mold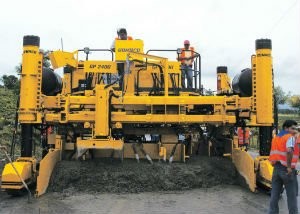 GOMACO's GP-2400 is the latest paver in their complete line of concrete slipform pavers to feature the V2 variable-width mold. The GP-2400 is capable of paving up to 24 feet (7.5 m) wide and with the V2 mold on board, it can make 6.5 foot (2 m) transitions to form tapered slabs on-the-go and make easy paving width changes. The GP-2400 with V2 mold was shown for the first time in 2014 and was one of the featured machines in the GOMACO booth at CONEXPO/CON-AGG 2014 in Las Vegas, Nevada
The GP-2400 with V2 mold paving package features a hydraulically telescoping rolling frame for easy and accurate width changes. The frame has dual rollers, mounted to the top and bottom of the outer frame tubes, to position the inner tube and reduces the amount of surface-to-surface contact area. This reduces friction and drag as the inner tube rolls when telescoping and provides a fluid action as the V2 mold makes on-the-go width changes. The configuration of the front and rear molds dictates the minimum and maximum paving widths and the total amount of width variation. The molds feature dual power transition adjusters (PTAs) for crown height adjustment. It is also available with a curb profile on one or both sides for municipal paving.
A spreader plow with hydraulic vertical movement controls the head of concrete in front of the V2 sectionalized mold system. The plow rail has the ability to vary similar to the GP-2400's framework to accommodate width changes. Proximity switches on the plow framework set the length of travel and these switches can be easily moved to change the plow's settings. The plow's horizontal and vertical movement can be operated manually or set on automatic.
The GOMACO GP-2400 two-track or four-track slipform paver is powered by a 174.5 hp (129.5 kW) Caterpillar® diesel engine. Two-speed track motors provide quick job-site mobility. The travel speed on the two-track GP-2400 is 105 feet per minute (32 mpm), and up to 96 feet per minute (29 mpm) for the four-track paver, to quickly move across the job site or travel from one pour to the next. Low speed is variable and features the smooth crawl that GOMACO pavers are known for when slipforming concrete.
The GP-2400 features the GOMACO-exclusive G+® control system that is both easy to learn and easy to operate. It expresses itself in easy to understand international icons and full script explanations. G+ operates in all the major languages of the world in either imperial or metric units. It has a lightning-fast processing speed and features two-way communications between paver accessories and the G+ controller. Its instant digital feedback combined with the tight closed-loop electronic and hydraulic control creates a G+ paving experience that is smooth, efficient, and accurate. There is nothing on the market that can compare, because G+ was designed by GOMACO's in-house team from years of experience in the field and from what was learned from concrete contractors.
G+ Connect™ features an entire library of sensor capabilities for controlling slope, grade and steer with set-up configurations for any project requirement. This includes paving with 3D stringless systems, laser control, sonic sensors, rotary sensors, slope sensors and all of their set-up requirements. Just connect to G+ Connect and the G+ controls automatically recognize them and communicates with them. Unique applications such as fill-in lanes, tunnel paving, half-width concrete overlays, and sonar steering off an existing barrier wall are examples of projects that can be accomplished through a variety of solutions from the Sensor Library. The GP-2400 will feature G+ Connect and will be equipped with GOMACO A.I.R. for CONEXPO-CON/AGG. GOMACO A.I.R. is the aluminum instrument rail for quick attachment and mounting of multiple sensors from the Sensor Library, and will showcase the variety of sensors available on GOMACO pavers.
GOMACO showcased a full paving train in their booth, including a PS-2600 placer/spreader, the next generation four-track GHP-2800 slipform paver, and the new four-track T/C-5600 texture/cure machine. G+ technology was also featured in GOMACO's largest CONEXPO-CON/AGG display ever. The G+ advantage for high-production curb and gutter, sidewalk, safety barrier, half-width and full-width paving, variable width paving, and paving with automatic dowel bar insertion was on display. The newest updates for the GSI®, the GOMACO Smoothness Indicator tool for reading and achieving optimum rideability results, were showcased. The job-proven C-450 bridge deck finisher rounded out GOMACO's display.