New Cat® MH3037 Wheeled Material Handler Features Advanced Power Train, Powerful and Efficient Hydraulics, and Ground Level Entry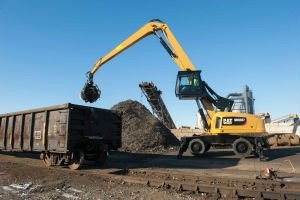 The new Cat MH3037 is the third member of the new wheeled material handler line that Caterpillar is introducing in the greater-than-25-ton size class. The new Cat material handlers are purpose-built to work productively and durably in industrial, scrap recycling, millyard and waterway applications, while affording maximum protection and convenience for the operator. A patented "ground entry and exit" with a step-in cab that lowers to the front or the side of the machine enhances convenience and safety for operators and service personnel.
The MH3037 has an operating weight of 82,900 pounds (37 600 kg) and is powered by the Cat ACERT™ C7 engine featuring an electronically controlled, mechanically actuated, unit-injector fuel system that uses multiple-injection fuel delivery for optimum power and economy in all operating situations. The MH3037 configuration is rated at 225 horsepower (168 kW).
High strength structural steel and advanced welding techniques ensure structural integrity. A powerful hydraulic system provides rapid response with efficiency, and new serviceability features simplify maintenance. These design elements combine to provide low-cost operation and maximum value for MH3037 owners.
Company info
Related products