New Kodiak Plus K500+ Meets Demand from High-Production Aggregate, Mining Producers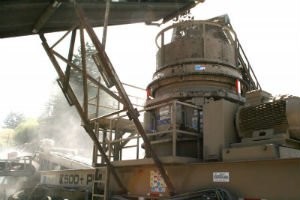 KPI-JCI and Astec Mobile Screens will showcase the new Kodiak Plus K500+, a new 500-horsepower, remote-adjust cone crusher, at the 2014 ConExpo-Con/Agg tradeshow March 4-8 in Las Vegas, Nev.
The K500+ is the latest addition to the Kodiak Plus Cone Crusher family, which previously consisted of three models, the K200+, K300+ and K400+. The K500+model fills a demand for larger secondary and tertiary cone crushers that are used by high production aggregate producers and mining companies, according to Jeff Lininger, JCI director of products and sales.
The K500+ model has been under heavy consideration as a candidate for launch for the past decade, Lininger said, and implementing new refinements to the existing product line was critical before embarking on the larger machine.
"Some of the refinements that were implemented into the Kodiak Plus product line include a new hybrid cast/fabricated base frame design, the 'MILO' automated control system, a new patented liner retention system, patented thread locking ring, anti-spin cone brake, and other additional evolutionary refinements," Lininger said. "The K500+ will incorporate these new innovations as well, and we are confident that it will fill a large need in the current aggregate and mining markets."
Other features of the Kodiak Plus Cone Crusher product line include replaceable brass thread inserts, patented internal counterweights, a heavy-duty tramp iron system consisting of pressure relief valves in lieu of accumulators, brass v-seat liners, and other unique manufacturing and maintenance characteristics.