Telsmith Launches New High-Capacity T400 Cone Crusher At ConExpo-Con/Agg 2014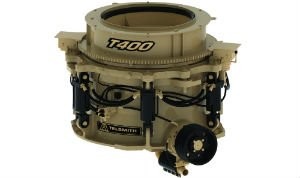 Telsmith Inc. will launch its new T400 Cone Crusher at ConExpo-Con/Agg 2014 in Booth 50327 in Central Hall. Rated with the largest in-class clearing stroke and the highest in-class crushing force, the Telsmith T400 Cone delivers 300 kW performance and a crushing capacity output range from 135 to 545 MTPH. Ideally suited to a variety of tough quarry and mining applications, the T400 Cone Crusher is engineered for maximum productivity, and lower operating costs. For increased uptime and safety, the T400 features a large clearing circuit, which is engineered to safely and quickly allow any uncrushable materials to pass. Designed with a maximum feed opening of 305 mm, the T400 Cone is complete with a 1321 mm diameter head; a 1397 mm receiving hopper; replaceable mainframe liners; epoxy-secured manganese steel crushing members and more. To minimize downtime and reduce inventory costs, the T400 enables the use of a single bowl for all liners over its range of operation – allowing optimum versatility, flexibility, and efficiency in any aggregate application.
For optimum wear life and reduced maintenance time and costs, the Telsmith T400 features a new and improved patent-pending anti-spin feature that prevents head spin to extend manganese life. Like other key components, it's mounted on top of the machine to offer easy top-service access. The T400 is also designed to operate with pressure lubrication oil, while eliminating the use of a gear box and a separate hydraulic circuit. Additional serviceability features differentiate the T400 from conventional units that typically require significantly more time in routine service. For example, the T400 is designed with six cylinders (which is fewer in number than that of conventional units), yet offers the largest crushing force availability. The Telsmith T400 is also nitrogen-free and is engineered with a patented release system that eliminates the need for maintenance-intensive hydraulic accumulators. Even more operational cost savings stem from features such as a patent-pending concave (bowl liner) retention system which consists of a specially-designed and positioned lip ring that centers the bowl and achieves retention without the use of hammers and other hand tools.
Lastly, the T400 features the largest-in-class, patent-pending hybrid bearings. These hybrid bearings feature a washer and ramp design that replaces the conventional use of a socket, socket liner, and head ball – all of which typically require time-consuming removal when servicing the machine. Note that unlike roller bearing machines, these large hybrid bearings offer both a static and dynamic lift – which results in far greater lift to efficiently carry the crushing forces.