Komatsu America Corp. Expands intelligent Machine Control Dozer Family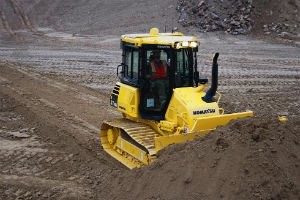 Komatsu America Corp. today introduced two more dozers to its intelligent Machine Control family, the D37EXi/PXi-23 and D39EXi/PXi-23 crawler dozers. Equipped with fully automatic blade control, both dozers can perform not only finish grading, but also rough dozing. With this introduction, Komatsu now has four intelligent Machine Control dozer models available in the North American market.
"We are pleased to be adding two more dozers that seamlessly transition from rough dozing to finish grading with automatic blade control engaged," said Peter Robson, director of Intelligent Machine Controls. "The efficiency improvement, greater value and simplicity of operation exemplify the leading innovations that customers have come to expect from Komatsu."
Intelligence: Enhancements For Optimized Performance
Inside the cab, customer selectable dozing modes allow system response to be tailored to the current machine operation for optimized performance. Similarly, blade load settings are adjustable between pre-sets to match actual material conditions. Pass to pass, the intelligent Machine Control system can be left with the automatic blade control engaged because of its ability to precisely automate the lowering of the blade at the start of a pass and raise it at the end of a pass. Improvement in combination rough dozing efficiency is up to 9% higher compared to add-on machine control systems.
Integrated: Standard Factory Installed Integrated Machine Control Syste
Typical add-on machine control system components mounted on the blade have been replaced on the D37i-23 and D39i-23 with factory-installed cab top GNSS (Global Navigation Satellite System) antenna, enhanced inertial measuring unit (IMU+), and stroke sensing hydraulic cylinders. These components along with the machine control monitor and controllers mounted inside of the cab are installed at the Komatsu manufacturing facility during machine assembly, ensuring quality installation and reliability.
When the machine travels around the job site, the cab top GNSS antenna collects accurate surface data by measuring actual elevations. The stroke sensing angle cylinder measures the angle of the blade for high precision grading accuracy on cross-slope, blade angled or not.
Tier 4 Interim with smart engine technology
The dozers meet EPA Tier 4 Interim regulations using smart engine technology, with operator-specific features bundled into compact 89 or 105 horsepower packages. Long track-on-ground standard (EX) and low ground pressure (PX) models are available to offer customers flotation and weight distribution options to best match their applications. Operating weights range from 18,872 lbs. to 21,848 lbs. depending on the configuration and model. At 2200 rpm, the D37i-23 and D39i-23 push with a net 89 HP and 105 HP, respectively.
KOMTRAX fleet monitoring is standard
These crawler dozer models are equipped with the latest KOMTRAXÒ technology, which is fully integrated with Komatsu's Tier 4 technology, and sends machine operating information, such as hour meter, location, cautions, load ratio, fuel consumption and maintenance alerts, to a secure website utilizing wireless technology. The KOMTRAX fleet monitoring system increases machine availability, reduces the risk of machine theft (compared to machines that are not KOMTRAX-equipped), allows for remote diagnosis by the distributor, and provides a wealth of other information to drive business efficiency and productivity.
No need for a Diesel Particulate Filter The dozers come equipped with Komatsu Diesel Oxidation Catalyst (KDOC), which has an integrated design that does not interfere with daily operation. This smart and simplified system removes soot using 100% "passive regeneration" without the need for a Diesel Particulate Filter (DPF). The KDOC does not have a scheduled replacement interval like a DPF and is designed for long life with no required maintenance. For owners, this means lower owning and operating costs due to less complexity and seamless operation for the operator.
A Variable Flow Turbocharger, direct flow air filter, high pressure common rail fuel injection, 16-valve cylinder head and Exhaust Gas Recirculation (EGR) are used on the D37i-23 and D39i-23, resulting in precise air flow management and more complete combustion, eliminating the need for a DPF.
Unrivaled blade visibility and ride
The steeply sloped engine hood and forward cab design provide more room for operators while moving them closer to the blade, for improved blade visibility, ride quality, enhanced grading ability and overall comfort. The cabs also have an integrated ROPS / FOPS structure and are designed using large glass windows for better visibility. Internal cab air pressure and air filters minimize dust entering the cab, and viscous cab damper mounts suppress noise and vibration when traveling over rough terrain making these new models quieter than their predecessors.
Durable and productive power angle tilt (PAT) blade
An efficiently-designed PAT blade with a highly durable box structure and good curvature, rolls material efficiently and improves productivity. Standard adjustable blade pitch allows the operator to adjust the aggressiveness of the cutting edge for varying applications. The hydraulic blade angle toggle switch improves ease of blade operation.
Next generation HST transmission and engine control technology significantly improves fuel economy
The D37i-23 and D39i-23 feature two selectable Working Modes, Economy (E) and Power (P), that match machine performance to the application. E Mode is intended for all general dozing, leveling and spreading applications providing adequate speed and power while saving fuel. P Mode is intended for slot dozing, ripping, uphill dozing or other applications that require maximum power where engine power has priority over fuel consumption.
The D37i-23 and D39i-23 incorporate proprietary engine and hydrostatic transmission pump control technology to improve operational efficiency, increase productivity up to 4% and reduce fuel consumption to levels lower than a conventional HST control system. This Komatsu exclusive feature reduces fuel consumption by up to 10% in P mode in demanding working conditions, and up to 20% in E mode under lighter load conditions (compared to the prior model).
Improved operator environment
For a quieter working environment, the interior cab decibel level has been decreased to 70 dB (D37i-23) and 72 dB (D39i-23). A more comfortable standard air ride seat with heat enhances operator comfort. A standard rear view monitoring system can be synchronized with reverse operation.
An HST version of the large 7" high-resolution LCD color monitor in the cab displays all machine information. An easy-to-use tab system allows operators to select the parameters they want to see and also provides quick troubleshooting for a service technician with easy to use on-board diagnostics.
Customer peace-of-mind is standard because of Komatsu CARE®
Komatsu remains focused on lowering customer ownership costs by engineering machines with increased fuel efficiency and productivity. Komatsu CARE® complimentary scheduled maintenance is standard on all D37i-23 and D39i-23 crawler dozers for the earlier of 3 years or 2000 hours. Services are performed by factory certified technicians using only Komatsu genuine parts and fluids.