Wacker Neuson offers a full range of ride-on trowels, fit for any job, in any condition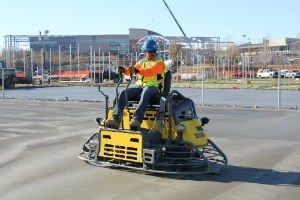 Wacker Neuson offers a full range of ride-on trowels that meet the needs of small concrete contractors who are expanding their line to large professional flatwork finishers. Wacker Neuson first introduced ride-on trowels 19 years ago and has perfected the design and expanded the line to provide choices and advanced technology that fits all concrete slab sizes and conditions.
Wacker Neuson's six, eight and 10 foot ride-on trowel models offer quality results, high productivity and operator comfort. Contractors can choose between the three sizes; air cooled and liquid cooled gasoline, diesel and propane fuel options, mechanical and electronic power steer, hydraulic drive, and a variety of performance and operator comfort features that ensure high productivity and excellent finishing results.
The CRT line (Concrete Ride-on Trowel) starts with the CRT 36 models. These 6-foot (36-inch) mechanical steer units offer a patented integrated wheel set. Wacker Neuson is the first manufacturer in the US to offer the factory installed wheel kit option providing easy transportation of the trowel around the job site and shop floor. When the machine is in operation on the slab, the wheels safely tuck underneath the unit and do not obstruct the operator's view. One person can easily raise and lower the wheels by a single jack. These units are powered by a Honda air-cooled gasoline engine. The CRT 36 is an excellent choice for concrete contractors that are expanding their business and finishing over 3000 square feet a day.
CRT 48 (48-inch) mechanical steer models are available with a patented torsional assist steering system that is easy to operate and reduces operator fatigue. A rigid, heavy-duty frame leads to more responsive steering and excellent feedback from the concrete condition. The newest mechanical steer model is the CRT 48-33K DF model. This unique dual fuel model is the first in the industry to offer a gasoline/liquid propane (LPG) option in one machine. The unit allows the operator to seamlessly change between gasoline and propane while the machine is running. The CRT 48 models are available in four different engine options: air-cooled gasoline, liquid-cooled gasoline, liquid-cooled gasoline/LPG dual fuel, and diesel.
The unique CRT 48-PS models use a patented electronic steering system that combines hydraulics and electronics to create a true power steer unit. These Pro+ units bridge the gap between the professional/mechanical steer and super pro hydraulic steer models in the industry. The CRT PS power steer system was designed to produce the results of a hydrostatic machine matched with the responsiveness of a mechanical steer while improving operator comfort. Using simple joystick handles, the CRT-PS handles and performs like a lighter weight finishing machine, and at the end of the day, the operator sees superior finishing results without fatigue. These models are powered by either an air-cooled gasoline or diesel engine.
Wacker Neuson's largest trowel is the high performance 10-foot CRT 60. This professional trowel combines the high performance of a hydraulic drive unit with the Wacker Neuson signature electro-hydraulic steering system that includes the patented two mode steering controller (also part of the CRT 48-PS). This system allows operators to select joystick responsiveness to meet their preference and best suit the concrete conditions. The unit also features a patented engine power regulation system that constantly monitors engine speed and adjusts the hydraulic load. A unique built-in hydraulic wheel kit makes blade changes a one-person job by simply raising the unit up on the integrated wheels. The CRT 60 is powered by a Kubota diesel engine.
Operator comfort is a key factor when designing ride-on trowels and Wacker Neuson engineers have taken this challenge to new levels. The ride-on trowel market has matured significantly and users no longer find it acceptable to stop and stretch or take muscle relaxing breaks which was common five to 10 years ago. For example, the operator's station on all joystick operated models has been configured according to a very specific set of dimensions that maximize arm and shoulder comfort. The goal is to provide a machine that the operator can feel comfortable on for extended periods of time, thus improving productivity. Even on the mechanical steer units, steering efforts have been drastically reduced from the efforts required from the operators on older generation models. There are even creature comforts now such as cup holders and 12 Volts outlets for audio and cell phones. The color of the seat has even been changed from black to gray to keep it cooler in direct sunlight.