Wacker Neuson offers complete line of walk-behind trowels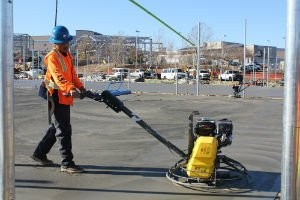 From the occasional finisher to the large concrete professional, Wacker Neuson has the walk-behind trowel to meet your needs. With 11 models including edging, standard, high-horsepower and variable speed units to choose from, concrete finishers will find the right size and power to fit any job.
As safety continues to be a paramount concern for job sites, Wacker Neuson's innovative walk-behind trowels were built with safety in mind. Wacker Neuson's CT walk-behind line (except edging model) offers a patented design built to provide extra protection from an out of control spinning handle. When the operator lets go of the handle, a gyroscopic safety sensor detects the motion of the handle and stops the engine before the handle reaches a 45-degree rotation. This engages the gearbox brake which will stop the handle rotation within a 270-degree rotation. This proven system is the industry's best way to protect the operator from being struck by a runaway handle.
Also designed for easy operation, the patented dynamically balanced trowels (when the blades are turning) offer nearly effortless operation and maximum control at all speeds with types of blades including pans. A variety of handle options and pitch controls are available and can be mixed and matched to the operator's needs and preference.
Standard – CT 36 models are 36-inch diameter models and offer the choice of a Honda or Wacker Neuson engine. The CT 48 models are 48-inch diameter models also with the choice of Honda or Wacker Neuson engines.
High Horsepower – CT 36 and CT 48 models offer a higher horsepower option that provides better torque for low speed floating and additional weight for those operators who prefer a heavier trowel, especially in hot, dry or windy conditions.
Variable Speed – CT 36 and CT 48 models offer a variable transmission system that provides wide speed range (25-200 rpm) for low speed, high torque finishing through high speed burnishing all in one machine.
Edging – The CT 24-4A is specifically designed for up the edge finishing. This unit offers better floating and finishing capabilities along all lines and obstacles, improving productivity and quality.