Introducing the E 1250 Hydronic Surface Heater by Wacker Neuson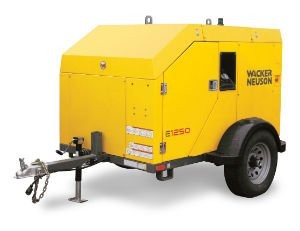 Wacker Neuson Climate Technology introduces the new E 1250 Hydronic Ground Heater for the 2014-2015 heating season. At 13,000 BTU/hr and 1250 feet of hose, the E 1250 provides reliable mobile heat for any jobsite application. Three configurations are available, the Value Package, the Standard Package and the Premium Package to fit your specific heat needs and your budget requirements.
The E 1250 heaters are engineered with the ultimate in rental friendly features, such as multi-fuel burner options (Diesel or Natural Gas/Propane) and our new telematics-ready digital control panel with intelligent systems to monitor heater status and provide early detection of low fuel levels, with clear and easy to understand diagnosis and centralized resetting of the most common heater faults.
Standard features include an integrated 3kW liquid cooled generator (Standard and Premium models), with easy access oil, filter and coolant changes and build in wet-stacking protection, a dual color performance strobe light to indicate normal operation, faults, or low fuel from a distance, a 2-point lift system which provides greater stability and stronger lift option, full spill containment system and in-line fuel heater to -40 °F/C (both available on Premium model). Additional features on the Premium model include an upgraded pump and an upgraded trailer jack.
The E 1250 is expandable and designed for reliable performance and trouble-free starts for up to 115 hours of run time at over 87% efficiency and with accessories can thaw up to 3,750 sq. ft. of frozen ground at an average rate of one-foot-deep per day, cure up to 8,750 sq. of concrete, prevent frost up to 11,250 sq. or provide up to 203,600 cu. ft. of dry heat.