Volvo PL4809D rotating pipelayer lifts productivity to new heights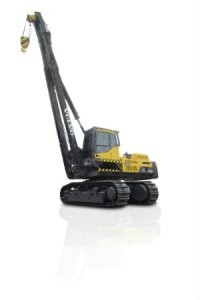 The latest addition to the revolutionary excavator-based pipelayers from Volvo, the PL4809D, has been enhanced with a whole host of new productivity-enhancing features, including a unique load management system.
The PL4809D rotating pipelayer is the second largest member of the revolutionary family of excavator-based pipelayers from Volvo. Offering excellent stability with a 90-ton lifting capacity, the PL4809D is highly productive while also being one of the safest and most stable machines in the industry. Volvo pipelayers also offer unsurpassed fuel efficiency, making them the most fuel efficient pipelayers currently available.
Featuring Volvo patented 360 degree swing capability, the PL4809D can handle large, heavy pipes with ease and place them anywhere around the machine — a task unthinkable with traditional side boom pipelayers. The PL4809D's innovative excavator-based design also allows the machine to be converted into a high-performance excavator, simply by swapping the pipelayer boom for the excavator boom included in the optional digging kit. Hydraulics are optimized for both pipelayer and excavator applications as standard. Service and maintenance have never been easier with more than 80 percent of parts in common with other Volvo excavators.
Superior stability
The PL4809D rotating pipelayer is designed to offer superior safety and flexibility, even on rugged terrain and inclines of up to 30 degrees. When holding a load on a slope, or during tie-ins, a heavy-duty mechanical slew lock fixes the superstructure at every 10th degree in relation to the undercarriage, protecting the transmission and providing excellent precision and security. A 70 percent improvement in tractive effort improves work on rough terrain and in slope work, while also increasing machine speed over flat ground.
A solid footing is secured by 30 in. (750 mm) tracks, with optional 36 in. (900 mm) or 41 in. (1,050 mm) tracks, for added stability and lower ground pressure. The extra wide undercarriage is retractable, enabling the user to reduce the pipelayer's width for road transportation; a factor that can result in considerable cost savings for the pipeline contractor.
The Volvo range of pipelayers features long booms that offer higher hook heights and longer reach than many competitor models – important for maintaining a safe distance from the trench. If needed, a boom extension is available, offering additional reach and hook height. The PL4809D's newly designed undercarriage counterweights are located to the side of the machine for a lower center of gravity and greater stability — as well as easy cleaning. A mechanical anti two-block device with wireless transmitter prevents the winch blocks from coming into contact during lifting. Inside the cab, the high-pull winch can be operated using the operator's preferred joystick. A mode switch boosts performance, using split pump flow for better load control during simultaneous travel / lift operations — or combined flow for maximum performance speed when travelling or in stationary pipe handling operations. A fine work mode gives high pressure and low flow for maximum lifting power but minimal fuel use.
Advanced operator environment
The PL4809D's exclusive load management system (LMS) makes operation even safer and easier. Wireless sensors on the hook, boom and base machine feed data concerning the boom angle, machine orientation and inclination to an in-cab computer, which calculates and displays actual loads and related working loads, all in real time. There are also visible and audible warning signals that notify the operator when the safe load limit is reached, including green / yellow / red light bars on both sides of the boom.
Operators work in a clean, low-vibration and low-noise environment, thanks to the latest generation cab from Volvo. Ergonomically positioned controls and a best-in-class cab filtration system help reduce fatigue and stress — and consequently improve productivity. Good all-round visibility is provided with large glazed areas and by the elevated riser system fitted to the cab. This hydraulic, four-bar cab riser gives operators excellent visibility of the load, and worksite, and into the trench. (The lowest position is ideal when transporting the pipelayer.) Visibility and site safety are further improved via standard-fit rear and side-view cameras, projecting images to the in-cab monitor.
The PL4809D has other important features fitted as standard, for example, CareTrack®, the Volvo telematics system that constantly monitors machines, and provides information to help owners reduce fuel costs and optimize performance. CareTrack works together with the machine's own information, control, and diagnostics systems. In addition to monitoring the machine's location, you can remotely track usage, productivity, fuel consumption, maximize uptime through important service reminders, and even prevent unauthorized machine use. Volvo now provides a six-year CareTrack service subscription at no additional cost.
Other important features include the attachment management system, which stores up to 18 pre-sets, and allows hydraulic flow (standard) and pressure (as an option) to be adjusted, enabling the easy use of a variety of attachments. Maintenance is aided by grouped filters and service points, accessed at ground level via large, wide opening doors.
Company info
Related products