McNeilus command center electronic controls debut on its industry-leading ready-mix trucks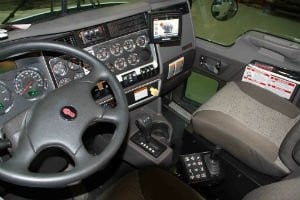 McNeilus company, has introduced the new McNeilus® Command Center™ touchscreen electronic controls on its industry-leading lineup of mixer systems, including the McNeilus Bridgemaster® and Standard mixers.
"The new McNeilus Command Center dash-mounted electronic controls offer ready-mix drivers and fleet managers an enhanced level of control, and set the new industry benchmark," said Brad Nelson, Oshkosh Corporation senior vice president and president of McNeilus Companies. "The driver-friendly touchscreen and joystick controls are intuitive and easy-to-use. We're excited to have the new controls on display at the World of Concrete."
The McNeilus Command Center controls are engineered specifically for ready-mix vehicle applications. They feature a series of easy-to-navigate touchscreen controls (with intuitive graphic icons), with available and easy-to-operate joystick. The driver is able to control all aspects of drum charging and discharging, drum rotation, chute control options, Bridgemaster controls, and more. The system integrates built-in interlocks that will not allow the mixer system to operate outside predetermined parameters. With reduced wiring and integrated self-diagnostics, reliability is enhanced and maintenance is simplified.