KPI-JCI and Astec Mobile Screens Unveils Latest Innovations at ConExpo-Con/Agg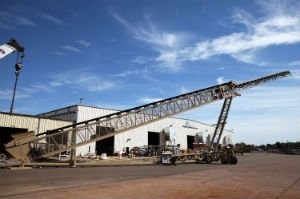 KPI-JCI and Astec Mobile Screens will unveil its latest innovations during the 2014 ConExpo-Con/Agg tradeshow, located in the Astec Industries booth, C-50327 Central Hall. Six pieces of equipment will be exhibited during ConExpo-Con/Agg, including the new-generation SuperStacker™, the Kodiak Plus® K500+ Cone Crusher, the Series 9000 Dewatering Screen, the High Frequency Screen for the Industrial Sands Market, the FT2650 Jaw Crusher with pre-screen option and the new-generation 3055 Vanguard Jaw Crusher.
KPI-JCI and Astec Mobile Screens is a premier worldwide manufacturer of heavy equipment for the construction, aggregate and recycle markets. Its parent corporation, Astec Industries, will exhibit a total of 42 pieces of equipment in its booth, 89 percent of which will be new to the industry.
The 170' long SuperStacker™ is the company's latest model of telescoping stackers. SuperStackers™ are essential to building a desegregated stockpile and ensuring product quality. By controlling the extension of the stinger conveyor, radial travel and conveyor incline, layered windrows will be built, minimizing stockpile segregation. The new generation of SuperStackers™ has replaced the e-chain with the festoon system, providing less maintenance, smoother operation and better reliability. They also feature an enhanced Wizard Touch® automation control system, allowing for more stockpiling options.
The new-generation Vanguard Jaw Crusher reduces maintenance and increases performance. The optional tramp iron relief system enables adjusting the closed-side-setting on the fly while providing overload protection from tramp iron events. Increased stroke, toggle angle and flywheel inertia provide up to 25% more production, greater efficiencies and lower fuel costs over competitive models. Components such as the common flinger collar, stress-relieved base frame and machined saddle work to reduce cost-of-ownership.
The Kodiak Plus K500+ is a new 500-horsepower, remote-adjust cone crusher. The K500+model fills a demand for larger secondary and tertiary cone crushers that are used by high production aggregate producers and mining companies. Refinements implemented into the Kodiak Plus product line include a new hybrid cast/fabricated base frame design, the 'MILO' automated control system, a new patented liner retention system, patented thread locking ring, anti-spin cone brake, and other additional evolutionary refinements.
The Series 9000 Dewatering Screen is the latest addition to the Series 9000 family of products, which also includes classifying cyclones, dewatering cyclones, density classifiers, attrition cells and sieve bend screens. This family of products is in addition to KPI-JCI and Astec Mobile Screens' already-extensive line of conventional washing and classifying equipment, which includes log washers, coarse material washers, blademills, fine material washers and classifying tanks. These products allow producers to penetrate new markets such as the production of specialty sands like frac sand or glass sand, to remove deleterious materials such as lignite from an otherwise quality sand product, and for the removal of excess fines from the effluent stream from a wash plant prior to introduction into the settling ponds.
The high frequency screen for the industrial sands market is a redesigned version of the original Vari-Vibe® High Frequency Screen. Engineered to be a versatile screen, the high frequency screen is designed to operate in numerous markets, including fractionated reclaimed asphalt pavement (FRAP), wood pelleting and now industrial sands. A more precise product than common concrete and asphalt gravels, industrial sand requires state-of-the-art screening equipment.
The new high frequency screen for the industrial sand market is a 5' wide x 12' long screen specifically designed for dry screening fine materials in an efficient and cost-effective manner. It is fully sealed for dust, spillage and collection, and has a broader range of operating angle than a conventional high frequency screen, providing greater application flexibility and higher capacity for fine dry screening. Because industrial sand applications require a very tight band of in-spec material where purity is high and separations are very fine, the new high frequency screen was designed for maximum stratification and increased probability of separation.