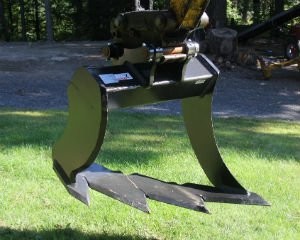 The patented "Stumpiranha" From Leading Edge Attachments, is a stump removal tool that replaces the slow process of stump grinding, and allows for complete removal without leaving grindings or stump remains that can cause sinkholes later.
Stump grinders are expensive, slow, and tap into the hydraulics of a machine which can introduce contaminants in the excavator's complex hydraulic system. The Stumpiranha attaches to an excavator or backhoe similar to a bucket, and allows the stump to be cut and ripped under the stump from the roots.
The staggered sharp pointed blades cut the roots under the stump one pointed blade at a time, thus allowing the maximum cutting force to be achieved. The vertical arms of the tool straddle the stump while the blades rip the roots below, thus allowing the stump to be removed completely, only leaving the ends of the roots. The stump can then be scooped up and loaded into a truck, without leaving insect infested grindings at the site.
The Stumpiranha is manufactured in USA using high strength T1 alloy steel for abusive, abrasive and cold weather conditions.