BOMAG's New BW138AC-5 Combination Roller Features Its Exclusive ECONOMIZER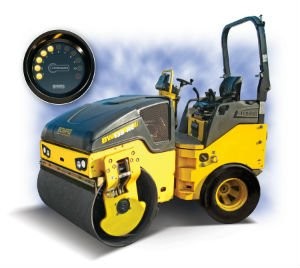 BOMAG continues its product line expansion with the new 4.5 ton BW138AC-5 roller. This 54-inch-wide model features a traditional vibratory steel drum in the front and four smooth pneumatic tires at the rear. This "combination" delivers added material manipulation for asphalt compaction and enhanced tractive effort for steep grade applications.
Powered by a Tier 4i 4-cylinder Kubota diesel engine, this roller is ideally suited for compaction of commercial parking lots, highway shoulder construction and secondary roadway maintenance. Rolling resistance on asphalt materials has been minimized due to the large 35.4-inch drum diameter.
Smooth rear pneumatic tires manipulate the compacted material and ensure that the liquid asphalt is even throughout the lift. This delivers a finer top finish on the material. The tires also aid traction due to their gripping characteristics and enable better performance on hilly applications and when loading and un-loading from steel deck trailers.
The BW138AC-5 is equipped with a pressure water sprinkler system that includes a high-capacity 76-gallon water tank for extended operation between refills. Filtered spray nozzles and an interval sprinkler timer contribute to water savings, while solid windscreens ensure that the drum receives sufficient coverage even in windy conditions. Flexible, spring-actuated scrapers further contribute to optimum water distribution. A separate 13-gallon tank holds emulsion liquids for wetting the rear tires.
A suspended and vibration-isolated operator's platform includes a fully adjustable and laterally sliding seat for added comfort, while allowing clear visibility of the drums. Operator efficiency is enhanced with multifunctional dual travel levers and the Smart Drive steering wheel that provides more working room and a full view of all machine controls.
Standard safety features on the BW138AC-5 include a foldable ROPS with seat belt, back-up alarm, emergency stop button, and front and rear working lights for night operation. The roller's engine hood and instrument panel are also lockable to protect against vandalism. Requiring no daily grease points, the needed on-site maintenance time is substantially reduced.
The optional BOMAG ECONOMIZER system enables continuous control of the compaction process. This easy-to-use quality control tool automatically offers real time compaction level data to the operator. Compaction levels are indicated by an increasing number of illuminated yellow LEDs on the instrument panel display. Maximum compaction is achieved when the number of LEDs does not increase with repeated passes. The operator quickly knows that no more passes are needed - thus saving the contractor time and money. If the number of yellow LEDs suddenly drops, this indicates weak spots in the material. These weak areas can now be further analyzed and remedied immediately. A red LED warns of over-compaction and helps prevent fracturing of the aggregate. This ECONOMIZER technology delivers a high quality, smooth and consistent compaction result across the entire rolled area. Additional optional features that are available include directional indicator and hazard lights and a rotary beacon.