Maxwell Systems Expands Its Presence in Canada with Construction Management Software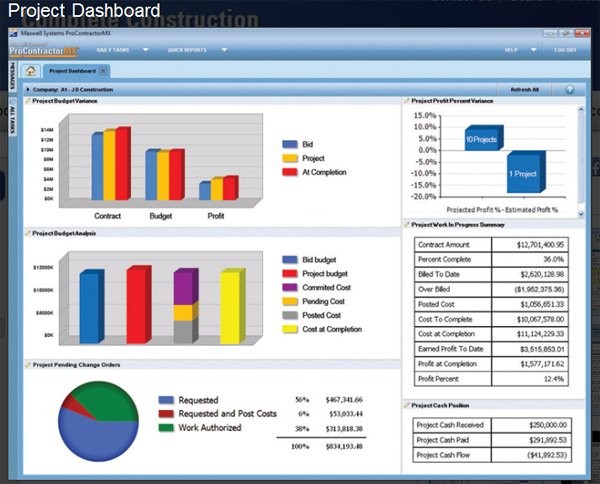 Maxwell Systems, Inc., a leading provider of complete construction business management software solutions, has expanded into Canada with additional development efforts, broader industry presence, and enhanced product offerings.

Recently, Maxwell Systems introduced ProContractorMX version 2.8, which delivers important capabilities to enhance overall system performance, includes infrastructure upgrades, and provides valuable features to help Canadian contractors handle payroll and taxes. According to Jim Flynn, President & CEO of Maxwell Systems. "We are pleased to evolve the solution to best satisfy Canadian contractors, having been a presence in Canada for more than a decade, we understand their distinctive challenges and how software can help. Furthermore, providing the construction industry with a complete end-to-end solution helps us deliver on our passion of technology innovation and meeting the needs of our customers."

That sentiment is echoed by Peter Hersics, Vice President of Finance at Gateman-Milloy, Inc. (Ontario, Canada), which is a full-service contractor offering services for land development, design build, construction, landscape design and construction, grounds maintenance, property management, and more. A Maxwell Systems customer since 2002, Gateman-Milloy's team has a proven track record of a decade's success with the partnership and construction software. As Hersics explains: "Maxwell Systems understands our unique business and knows how it works. We are currently developing a five-year strategic business plan, and the Maxwell Systems solution is involved in every aspect of the plan. Plus, we know that they will be around 10 years from now and that they will continue to evolve their products, adding new features and functionality."

Maxwell Systems ProContractorMX is a comprehensive, all-in-one construction management software solution that includes key capabilities for takeoff; estimating; bids and proposals; management of projects, financials, procurement, inventory, employees, payroll, and equipment; and intelligent dashboards and critical reports for timely analysis of projects or the overall business. The solution gives construction companies end-to-end control of all critical business operations, allowing contractors to improve productivity, reduce costs, monitor and control cash flow, and confidently increase profitability on every project. Built from the ground up on Microsoft's latest technology – Microsoft .NET platform and SQL Server 2008 – ProContractorMX sets a new standard in construction business management software. The technology allows high scalability and lower cost of ownership, as well as a dynamic design and layout that make ProContractorMX easy to use and flexible to expand.
Company info