Hyundai Construction Equipment Introduces New Interim Tier 4 R220LC-9A Excavator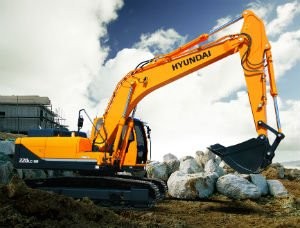 Hyundai Construction Equipment Americas, Inc. has announced the addition of its newest crawler excavator, the R220LC-9A. This new mid-size excavator provides operators with a certified Interim Tier 4 engine upgrade, improved hydraulics, increased operator comfort and added durability. This model is ideal for mid-size excavating projects, road and utility work and demolition. The R220LC-9A will join Hyundai's new line of 9A series excavators, all of which meet Tier 4 Interim standards.
Powering the R220LC-9A is a low emission, low noise, 157 hp Cummins Interim Tier 4/Stage IIIB, QSB6.7 engine. This engine is complemented by a patented VGT Turbocharger, which continuously varies the airflow boost to precisely match engine RPM and load demands for optimal performance. The engine also features the Cummins Direct Flow™ air filter which delivers better performance with faster cycle times and improved fuel economy over previous models. The R220LC-9A's variable speed fan clutch, two-stage auto decel system and the economy mode help to conserve fuel and reduce environmental impact. Plus, operators can choose between three unique engine modes - Power, Standard and Economy - which enable the machine to switch between full power and reduced fuel consumption according to the user's preference.
The R220LC-9A boasts an operating weight of 49,640 lbs., a maximum dig depth of 20'5" and a bucket breakout force of 29,980 lbs.
To achieve optimum precision, Hyundai redesigned the R220LC-9A's hydraulic system to provide the operator with super fine touch and controllability. Improved hydraulic valves, precision-designed variable volume piston pumps, fine-touch pilot controls and enhanced travel functions make for smooth operation regardless of the operator's experience level. Other innovations include a new auto boom and swing priority system for optimum speed, a new auto power boost feature for additional power when needed and an improved arm-in and boom-down flow regeneration system for added speed and efficiency.
In addition to providing maximum performance, Hyundai's R220LC-9A is built to last. Durable track rail guards are provided to keep the excavator's track links in place. Track adjustment is made easy with standard grease cylinder track adjusters and shock absorbing springs. This model also has improved cab structure strength with stronger but slimmer tubing for optimum safety and visibility. Low stress, high strength steel is integrally welded to form a stronger, more durable upper and lower frame.
The R220LC-9A is not only durable but was engineered for the utmost safety and visibility. This model has a newly designed cab for more space, a wider field view and enhanced operator comfort. Special attention was given to a clear, open and convenient interior with plenty of visibility on the machine surroundings and the job at hand. This well-balanced combination of precision aspects puts the operator in the perfect position to work safely and securely. In addition, the enlarged cab comes with a see-through upper skylight, a larger and one-piece right-side glass, safety glass windows on all sides that won't scratch or fade, a closeable sunshade and a reduced front window seam – all features that work together to improve visibility.
In addition to enhanced safety and visibility, operators will enjoy the ability to fully customize the cab of the R220LC-9A to best fit their needs. Operators can easily adjust the seat, console and armrest settings. Hyundai has integrated the seat with the console to reduce operator fatigue, and adjustable air-suspension comes standard. Sleek styling has been applied to the ergonomic joysticks, which are now height-adjustable. For a more enjoyable work environment, the R220LC-9A offers many amenities that decrease stress and increase comfort. These include heated seats, additional space, enhanced climate control system, advanced audio system with USB player, AM/FM stereo, MP3 capabilities and hands-free Bluetooth. An optional feature is a Smart Key System, which allows the operator to start the ignition with the push of a button.
The R220LC-9A comes standard with a newly designed, color, 7 inch touch screen LCD display with easy to read digital gauges for monitoring temperature, fuel levels and other maintenance items. Power and work mode selection, self diagnostics, an optional rear-view camera, maintenance check lists, start-up machine security and video functions were integrated to make the machine more versatile and the operator more productive. The display is capable of tilting 15 degrees horizontally and 30 degrees vertically to meet the operator's preference and to avoid sun glare.
Maintenance on the R220LC-9A is painless with ground-line access to filters, lube fittings, fuses, machine computer components and wide open compartments. This model and the entire 9A-excavator series offer bushings designed for extended lube intervals of 250 hours and wear resistant, noise reducing polymer shims. Also provided are extended-life hydraulic filters (1,000 hours), long-life hydraulic oil (5,000 hours), more efficient cooling systems and integrated preheating systems, all of which help to extend service intervals thus reducing operating costs and machine down time.
Like all of Hyundai's 9A series equipment, the R220LC-9A features the Hi-mate Remote Management System, which allows operators and dealer service personnel to access a machine's vital service and diagnostic information from anywhere with internet access. Hi-mate users can remotely monitor daily reports outlining a machine's location, working hours, fuel consumption and any periodical maintenance needed, drastically reducing downtime and promoting preventative maintenance to help save the owner time and money.
Company info
Related products
Related Articles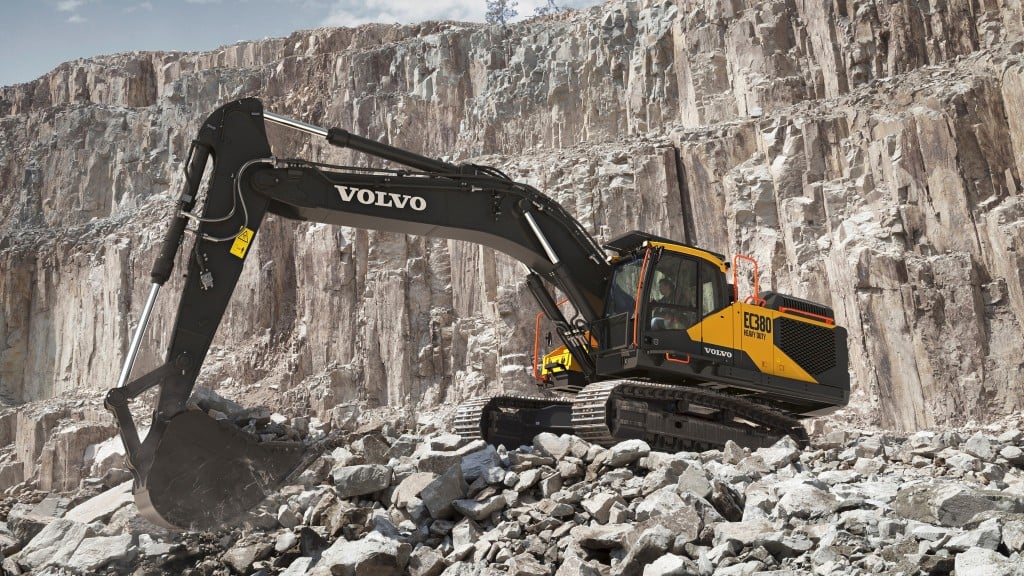 Volvo CE fuel efficiency and equipment warranty programs celebrate 10th anniversary