John Deere Updates Motor Graders to Meet Final Tier 4 Emission Standards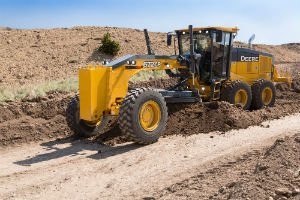 John Deere's best-selling G-Series Motor Graders now meet Final Tier 4 emissions standards with the implementation of a John Deere PowerTech™ EPA Final Tier 4/EU Stage IV engine. The engine update also allowed engineers to implement several customer-inspired ideas to better meet the needs of today's operator.
"Updating the G-Series engines to Final Tier 4 allotted us the opportunity to talk with customers in more detail about what they liked and didn't like with the G-Series design," said Mike Ackerman, product marketing manager, motor graders, John Deere Construction & Forestry. "They wanted an emissions solution with no compromises, better all-around lighting, a more modern radio, an improved rear view camera with a dedicated monitor, and a few upgraded cab features. We delivered on these with these new G-Series motor graders."
The G-Series still boasts 12 models (670G/GP, 672G/GP, 770G/GP, 772G/GP, 870G/GP, 872G/GP) with net horsepower ranging from 220 to 287. Six of the units (those models ending in two: i.e. 872G) feature six-wheel drive, enabling them to power through the toughest cuts with power flowing to all wheels. Six-wheel drive gives operators increased traction, the ability to get more work done in fewer blading passes and a 30-percent increase in blade pull.
All motor grader models weigh the same as their Interim Tier 4 predecessors. In addition, there is no sacrifice to visibility going from an Interim Tier 4 to Final Tier 4 engine. Visibility is excellent to the sides and rear and the operator can easily view the ripper while the machine is in motion. The customer-favorite direct-drive transmission with event-based shifting continues to offer smooth as silk gear and direction changes.
Operators don't have to worry about diesel particulate filter (DPF) cleaning as it still occurs automatically with no impact to machine operation. Also, after extensive testing, John Deere's DPF can go up to 15,000 hours before ash removal. Additionally, all models feature excellent total fluid economy (diesel fuel and DEF).
As with all John Deere equipment, cooling package service access is stress-free with a swing out fan door, pivoting coolers and standard hydraulically driven cool-on-demand reversing fan that runs only when needed. Finally, filters are located in an easy to access bank.
Customer feedback also drove John Deere to offer new LED worklights for better illumination around the G-Series models. Operators also have the ability to utilize satellite radio with Bluetooth capability. A new laminated cab glass option will be available in 2014 as well.
Operator control is a hallmark of the G-Series. Customers continue to get a steering wheel and can choose from the console-mounted low-effort industry standard control pattern (G models) or intuitive and easy-to-use armrest-mounted industry standard fingertip controls (GP models). If an operator specifies the fingertip controls, he'll still have a choice between using lever steering and the ever-present steering wheel. Either way, G-Series controls provide a smooth, predictable response and plenty of power whether the application calls for heavy blading or fine grading.
John Deere's "open-architecture" design lets customers employ their favorite brand of grade-control system. GP models come factory equipped with bulkhead connectors, sensor mounts, electrical wiring harnesses, integrated controls, and exclusive moldboard mast mounts. Machines can also be factory-installed with Topcon 3D-MC2 grade control system for faster availability and the ability to finance the system with the grader purchaser. All GP models come standard equipped with automated cross-slope.
All John Deere motor graders come standard with John Deere WorkSight™, an easy-to-use suite of technology available for increasing uptime and productivity while lowering operating costs.
Company info
Related products
Related Articles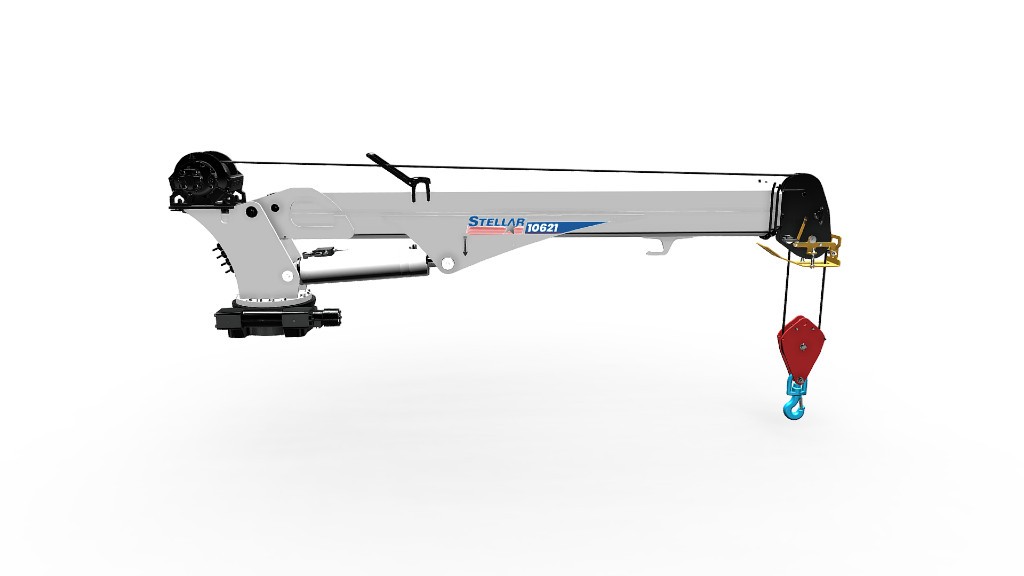 Six new Stellar telescopic service cranes feature redesigned booms and radio remote controls