Hyundai Construction Equipment Unveils New Interim Tier 4 HL730-9A Wheel Loader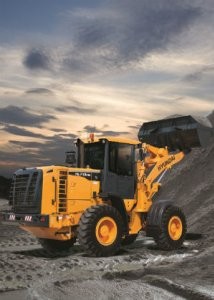 Hyundai Construction Equipment Americas, Inc., a leading earth moving equipment manufacturer, has announced the introduction of its newest wheel loader model, the HL730-9A. This rugged machine is set to provide operators with multiple enhancements from the previous model including a certified Interim Tier 4 engine upgrade, improved durability and increased operator comfort. The HL730-9A will join Hyundai's lineup of fast and efficient 9A series wheel loaders, which are ideal for a wide range of applications including construction, demolition and recycling, utility and agriculture.
Hyundai's HL730-9A wheel loader was engineered with reliable main components for maximum performance to keep operators working productively. This machine is built with a fuel efficient, low noise 128 hp Cummins Tier 4 Interim & EU Stage IIIB QSB4.5 engine. The eco-friendly engine is electronically controlled for optimum fuel to air ratio and clean, efficient combustion and also features a self-diagnostic system for ultimate dependability. The combination of a high pressure common rail system and an advanced in-cylinder combustion technology results in increased power, improved transient response and reduced fuel consumption.
The HL730-9A loader has a fully automatic transmission designed for maximum durability, minimum power loss, improved travel speed and low noise. An improved clutch control and minimized shifting shock when travelling contribute to a smoother ride. The HL730-9A model is designed to allow the operator to customize the machine's engine power, automatic transmission, shift time and clutch cut-off activation based on the job condition and personal preference. Three engine power modes are provided for extreme flexibility; power, standard and economy, as well as four transmission power shift modes; manual, light, normal and heavy, making this model an ideal match for a number of working conditions. Convenient rotary type switches allow for easy adjustment of engine power modes, transmission power shift modes and clutch cut-off modes. Additionally, the optional ride control system has shock absorbing accumulators that cushion the boom, improves operator comfort and reduces material loss.
Hyundai's 23,149 lb HL730-9A wheel loader has a 2.5 cubic yard bucket capacity and a bucket breakout force of 20,170 lbs. The HL730-9A is available in an extended reach (XTD) model for jobs where a higher dump height is necessary such as loading high-sided trucks and hoppers, stock piling material and for agricultural applications including stocking feed lots on dairy farms. The loader is also available in a tool carrier (TM) model which offers parallel lift and is ideal for tasks like pallet handling and pipe laying.
HL730-9A Series
HL730-9A
Operating Weight kg(lbs): 10,500 (23,149)
New Power hp(kW)@rpm: 128 (95)@2,200
Breakout Force kg(lbs): 9,150 (20,170)
Bucket Capacity m3(yd3): 1.9 (2.5)
HL730XTD-9A
Operating Weight kg(lbs): 10,700 (23,589)
New Power hp(kW)@rpm: 128 (95)@2,200
Breakout Force kg(lbs): 9,070 (20,000)
Bucket Capacity m3(yd3): 1.9 (2.5)
HL730TM-9A
Operating Weight kg(lbs): 10,900 (24,030)
New Power hp(kW)@rpm: 128 (95)@2,200
Breakout Force kg(lbs): 9,960 (21,960)
Bucket Capacity m3(yd3): 1.7 (2.2)
Hyundai's HL730-9A is not only powerful and productive but also offers enhanced operator comfort making the most tedious tasks more enjoyable. The HL730-9A features a larger, redesigned cab providing users with a comfortable, convenient and spacious work space. Special attention was given to a clean interior with wide visibility of the machine surroundings and the job at hand. The newly designed loader also provides operators with a wider field view due to a rounded front windshield that is 17% wider than previous models, along with larger door glass. This model carries many improved convenience features including increased cooling and heating capacity with fully automatic climate control system, a tilting and telescopic steering column, an adjustable wrist rest for reduced operating stress, multiple storage compartments, an AM/FM radio with MP3 interface, a USB input and hands-free Bluetooth. An improved ladder with 20 degree incline and large, deep tread, aluminum cast steps is also provided for safer entering and exiting of the cab.
Hyundai's HL730-9A has many amenities including an advanced, multimedia functional, 5.7" touch screen LCD color monitor with adjustable swivel to reduce glare, which allows the user to easily and efficiently control the machine. Boom kick-out and bucket position can be adjusted through overhead switches while viewing the settings through the screen. An integrated load weighing system, also viewable through the monitor, contributes to improved work efficiency and a self-diagnostic system with an active display of engine, hydraulic system, transmission and electrical component information, make the machine more versatile and the operator more productive. The LCD monitor is also functional as a rearview backup camera providing improved safety and convenience on any jobsite.
Built to maximize profitability and improve durability, Hyundai's HL730-9A loader has many enhanced service features, efficiencies and longer life components. The HL730-9A provides easy access to key servicing components making routine maintenance hassle-free. A tilting transmission and hydraulic oil coolers swing open for easy access and the rear door can be open to over 70 degrees. Conveniently located transmission oil site gauges make checking fluid levels fast and efficient. This Hyundai loader also provides users with critical ground level access to common service points, filters and sight gauges as well as an extended life hydraulic filter and oil for reduced operating costs.
As with all of Hyundai's 9A series equipment, the HL730-9A features the Hi-mate Remote Management System, which allows operators and dealer service personnel to access a machine's vital service and diagnostic information from anywhere with internet access. Hi-mate users can remotely monitor daily reports outlining a machine's location, working hours, fuel consumption and any periodical maintenance needed, drastically reducing downtime, reducing the need for multiple service calls and ultimately saving the owner significant time and money.