Cat® Utility Compactors Feature Improved Visibility and Lower Fuel Consumption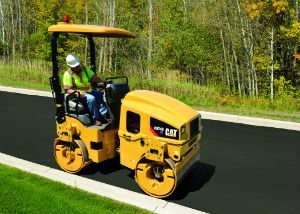 The new B-Series line of Cat® Utility Compactors, including CB22B, CB24B, CB24B XT, CB32B, CB34B, CB34B XW, CC24B and CC34B, feature key enhancements that aim to help contractors achieve compaction more efficiently.
This wide range of models provides excellent versatility to compete in the 1.8 mt to 5 mt size class. Typical applications include streets, bike paths, courtyards, patchwork, parking lots, driveways, town centers, and shoulder work.
Highlights include:
· A simple, comfortable operating environment with increased legroom, improved access, intuitive controls and easy viewing LCD display for day and night operation.
· Designed for easy loading and transport.
· The ROPS and canopy can be easily lowered without tools.
· Efficient compaction performance is achieved through better visibility, increased drum diameters, multiple frequency vibratory systems and optional ballast additions on some models.
· The water spray system continues to be very reliable and the large capacity provides up to 10 hours of operation without refilling.
· The engines offer plenty of power for consistent performance on grades and are able to operate in Eco-mode for reduced fuel consumption and lower sound levels.
· This new line of utility compactors is designed for the rental market by providing easy operation, durable components, extensive legroom, and fuel-efficient engines for lower overall operating costs.