Topcon FC-336 data controller designed for construction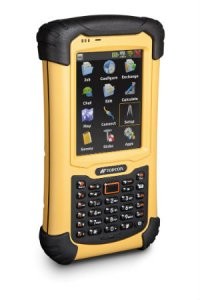 Topcon Positioning Group announces the new FC-336 data controller designed specifically for the construction industry. In addition to providing field crews with access to MAGNET™ Enterprise to send and receive data files, the new controller operates with Topcon MAGNET Field, Site and Layout software, as well as Topcon Pocket 3D.

The compact, lightweight handheld controller works with all Topcon GNSS receivers and total stations.

The new "feature-rich controller is dust and waterproof (IP68 environmental rating, submerged up to a meter or three feet), has a Windows® 6.5 operating system and built-in Bluetooth® and WiFi connectivity," according to Ray Kerwin, director of global planning­–survey products.

Additional standard features include:
--1GHz processor
--Integrated Bluetooth® wireless connectivity; Microsoft Windows Mobile® software
--5MP camera with attached LED flash
--512MB RAM memory and 8GB of data storage
--Accessible, rechargeable and hot-swappable batteries
--Internal GPS positioning with 2-5m accuracy
--E-compass and altimeter
--Alpha-numeric keyboard; 3.5-inch digital display
--Can operate in adverse conditions in temperatures from -22F (-30C) to 140F (60C)

The FC-336 unit also includes languages other than English (Spanish, French and German) and an optional global cellular modem. Kerwin said, "The internal cell modem sends and receives data with MAGNET products through the 'cloud' for easy transfer of information from any job site to or from a central office or operations center."

The Bluetooth and WiFi features also "allow use of the data controller in a typical 'hotspot' to access maps, Internet information, email and transfer files quickly to the office," Kerwin said. The unit can be used with MAGNET software for precise positioning displayed on Bing™ Maps overlay.