Liebherr introduces new series-production of travel drives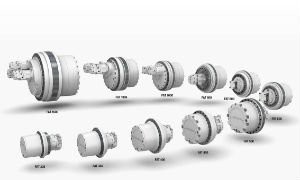 Liebherr has developed a new travel drive (FAT) series consisting of eleven models in different sizes. These standardised coaxial travel drives can be installed flexibly and at reasonable cost in all types of crawler vehicles.
Eleven gearbox sizes for crawler vehicles
Liebherr travel drives are ideal for a wide variety of applications, for example crawler excavators and other earthmoving machines, crawler cranes, construction-industry and special-purpose cranes or mining equipment with crawler travel gear. They are also used in special-purpose machinery such as pipeline equipment.
The new production series consists of Types FAT 325 to FAT 1600 – eleven sizes of transmission in all. The coaxial planetary gearboxes are manufactured in large quantities and can be of three- or four-stage pattern, with gear ratios extending from i=59 to i=497. Depending on the application and the relevant collective load value, maximum dynamic output torque can be as high as 3,450 kNm.
High power density assured
Notable features of these transmissions are use of a minimum number of optimised parts and well-planned design that ensures uniform load equalisation in the various gear stages and therefore high power density. The main bearings are integral, so that optimal basic load ratings are achieved for all intended uses, despite the reduced number of individual parts.
The sun and planet wheels in these transmissions are made from high-strength heat-treatable steel, case-hardened and ground. This material is also used for the forged planet wheel carriers. All components involved in the transmission of torque are also manufactured from case-hardened and heat-treatable steels that have been certified according to Liebherr's own standards and possess a 3.1 material certificate in accordance with Industrial Standard DIN EN 10204.
Ultra-modern development and computing processes
Liebherr travel drives are designed and manufactured by the latest development and computing methods and in accordance with valid standards. For component ratings, the design staff has access to data from Liebherr's own high-frequency pulsator and gear stress testing rigs.
The gearboxes are reliably protected against dirt by sealing systems that have demonstrated their long working life and ease of maintenance even in the most arduous practical operating conditions.
In-company production depth
Liebherr has been active in the design, development and manufacture of strong, high-performance travel drive assemblies for some 40 years. These products are noted for their outstanding quality and reliability. The planetary gearboxes come from the Liebherr factories in Biberach / Riss, Germany and Dalian, China; they have proved successful in machines and equipment supplied to customers within and outside the Liebherr Group.
Ever since it was established, Liebherr has pursued a policy of high production depth. The power-train hydraulics and electric motors are designed and manufactured in-house. With these motors, the travel drives are exceptionally compact and achieve optimal levels of efficiency.