New Liebherr Diesel Engines comply with EU Stage IV / EPA Tier 4f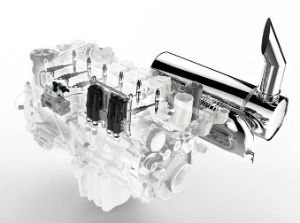 To comply with the necessary emission and fuel consumption targets, Liebherr has intensively optimised the complete combustion process with the aim of reducing even the particulate levels generated inside the engine to a minimum. One of the decisive factors in coordinating the various parameters was the in-house development of a common rail fuel injection system including an electronic engine management control unit also developed by Liebherr's own specialists. At the moment Liebherr supplies eleven different basic engines in the power categories from 130 to 750 kW. The 4- and 6-cylinder inline engines, the V8 and V12 all comply with the exhaust emission limits that will apply from 2014 on.
Stage IV / Tier 4f only with SCR catalytic converter
To keep the system simple and optimise exhaust emission control in even the toughest operating conditions, it was decided to concentrate on selective catalytic reduction (SCR) technology. This has economic benefits for the customer and also simplifies construction machinery design: since particulate emissions are already below the statutory limits, no further measures to reduce them are necessary, and engine characteristics – power output, efficiency and economy – can be further optimised by comparison with the EU Stage IIIB / EPA Tier 4i versions. The SCR catalytic converter, a new design, and the remaining system components such as injectors, air pump and AdBlue pump have the effect of reducing emissions of oxides of nitrogen (NOx) by approximately 98 %.
Optimising the entire combustion process
With the aim of reducing particulates formed inside the engine, Liebherr subjected the entire combustion process to detailed examination. Among other parameters, the injection pressure and compression were increased and internal friction reduced. Other features of the new engines include stable multiple injection, optimised combustion chamber geometry and efficient forced aspiration. Decisive aspects of these optimisation measures were the innovative common rail system and the electronic engine management – also an in-house Liebherr development. The common rail principle ensures efficient, accurate fuel injection. Soot particles inside the combustion chambers are reduced to a minimum, and fuel consumption lowered. All these factors contribute to greater environmental acceptability.
In-house fuel injection technology enhances system competence
Since it develops and manufactures its own engine architecture, engine control management and fuel injection technology, Liebherr is in the favourable position of being able to offer suitable power units entirely from a single source. Only when all the elements making up a vehicle or machine match each other effectively can emissions be lowered and higher performance obtained from the engine.
With a product portfolio that occupies a unique market position – diesel engines, fuel injection, multi-output pump transmissions, hydraulic pumps and other power train components – Liebherr is able to offer its customers system know-how that is unrivalled in its extent.
Many decades of experience
Liebherr has accumulated many years of diesel engine design and development experience; its products are notable for ultra-modern technology allied to robust construction methods. The first series-production inline engine appeared in 1985, and the range has been regularly updated and modernised since then, with integrated functions and avoidance of an excessive number of individual parts – both features that enhance the engines' exceptional reliability. Liebherr Diesel Engines withstand the most arduous operating conditions and perform satisfactorily over a very broad range of outside temperatures. Since their fuel injection systems are responsive to atmospheric pressure, they can be operated successfully even at high altitudes.
A big range of potential applications
Liebherr diesel engines are not only used in the Group's construction machines but also by customers outside the Liebherr Group, for example in mining equipment, other manufacturers' construction machinery, special-purpose vehicles and many other applications.