Liebherr Mining Truck T 264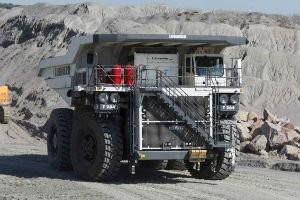 Liebherr presened the T 264 mining truck at the 2013Bauma. With a maximum payload of 240 ton / 218 t and an empty vehicle weight of 184 ton / 167 t, the truck reaches a gross vehicle weight of 424 ton / 385 t.
In order to synergize with the product line of hydraulic mining excavators, Liebherr has returned to the 240-ton class with the T 264, which was launched in 2012.
Backed by thirty years of proven design and operational experience, this fuel-efficient mining truck is built for safety and reliability, and is sized to match the Liebherr R 996 B and R 9800 hydraulic excavators, as well as electric shovels and wheel loaders for optimal performance.
High power – maximum traction – ultimate performance
The T 264 combines an efficient Litronic Plus AC drive system and a high-power engine (up to 2,700 HP / 2,013 kW) to yield higher speeds on grade. For superior productivity, the T 264's hydraulic system offers efficient dump hoist performance that promotes fast cycle times.
Developed and built by Liebherr, the proven Litronic Plus drive system determines the optimal way to extract power from the diesel engine. Efficient loading of the engine is critical to minimize fuel consumption and maximize performance.
The T 264 features high-powered, frictionless dynamic braking. The AC drive system delivers up to 4,425 HP / 3,300 kW of electric dynamic braking, reducing engine loading and fuel consumption.
The T 264 is designed to operate for approximately 24 hours without refueling, dependent upon application. The extended operation is supported by its low fuel consumption and 1,300 gallon / 4,920 liter fuel capacity.
Efficient service access and integrated monitoring
Liebherr mining trucks are equipped with ladders designed for easy engine access. The low working heights of maintenance areas provide safe and efficient service access. The engine and alternator are accessible from both sides of the chassis, and there is dual access into the axle box for maintenance and inspection. Hydraulic filters and the battery isolation box, as well as filling points for fuel, hydraulic oil, grease and coolant, are all at ground level.
The integrated electronic system monitors, records, and outputs vital truck health and performance data. Data is stored and available for download to perform detailed analysis. This system supports predictive maintenance strategies to minimize unscheduled downtime.
The first pre-series Liebherr T 264 mining trucks begin field testing
The first Liebherr pre-series T 264 mining truck is currently undergoing field testing at the ASARCO Ray Mine in Arizona, USA. Located 70 miles / 112 km northeast of Tucson, the ASARCO Ray mine moves 250,000 tons / 228,000 t of material per day. A second pre-series T 264 mining truck is scheduled to be delivered to ASARCO for field-testing in May of 2013.
The T 264 is currently loaded by a variety of rope shovels and wheel loaders. This pre-series truck has been incorporated into the over twenty T 282 B models at work at the ASARCO Ray mine. Furthermore, two other T 264 pre-series trucks will undergo testing at the North Antelope Rochelle Mine in Wyoming, USA.
The aim of this onsite testing is to validate the new model in a true mining environment. The new truck's speed and loading efficiency is monitored in an effort to study cycle times and production as it hauls copper ore and overburden materials at the ASARCO Ray mine and coal and overburden at the North Antelope Rochelle mine as well. Throughout the year, Liebherr will analyze fuel and lube consumption and conducting operator surveys focused on gauging driver comfort and acceptance. In both locations the T 264 will be tested in conjunction with the fleet already onsite in order to evaluate its optimal loader/ truck match.
Liebherr is tasked with implementing new maintenance strategies such as condition based monitoring, documenting preventative maintenance tasks, tracking standard repair hours and calculating man-hours per SMU (service meter unit). Other initiatives that will be take place include evaluating component life benchmarks and measuring the machine's serviceability. This yields a better understanding of the truck's overall operating costs and the customer's estimated cost per ton.
Company info
Related products