Putzmeister America, Inc.'s New Ergonic® Mix Control System Revolutionizes Ready Mix Truck Design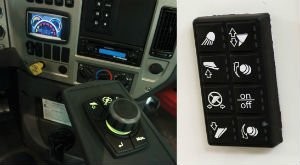 Putzmeister America, Inc.'s (Putzmeister) new fully programmable Ergonic® Mix Control (EMC) control system has revolutionized the ready mix truck category, allowing for time and fuel savings, while maximizing safety. Last year Putzmeister added ready mix trucks to its equipment portfolio, offering two different designs of concrete mixers, a Pro Series standard ready mix truck, and a Bridge Maxx Series with a booster axle. Both feature EMC, which integrates all mixer functions over a CAN bus system, ensuring precise and accurate operations.
EMC balances engine speed with hydraulic pump output to achieve the optimum drum speed, resulting in reduced drum wear and fuel savings. The responsive control system reacts immediately to the operator's commands, saving time on the job site. The system also allows minimum and maximum drum speeds to be programmed to batch plant preference. EMC's programmed interlocks make sure the mixer always operates safely and efficiently, whether it is being operated in manual or automatic mode. A convenient dash-mounted monitor shows key operating parameters along with warning lights and alarms for added safety.
"From the beginning, Putzmeister has been known for its continuous innovation of equipment design and engineering," added Dave Adams, president and CEO of Putzmeister America. "With the new EMC system on our concrete mixers, we are thrilled to bring that innovation to a new equipment category, expanding outside concrete pumps and Telebelts®."
Putzmeister introduced its new line of concrete mixers at the World of Concrete trade show earlier this year. The trucks are being engineered and manufactured at the company's Sturtevant, Wisconsin facility. For more information on EMC or the concrete mixer line, contact Putzmeister America at (262) 886-3200 or [email protected] for more information.