Liebherr LH 30 M Material Handler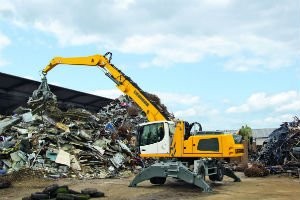 Liebherr has made the debut of the LH 30 M as a further model in its new LH range of material handling machines. It is a direct successor to the successful A 924 C. The letters "LH" in its name stand for "Liebherr Handler", an indication of the work area for which this mobile handling machine is intended. The other elements in the type designation refer to the service weight (30 tonnes) and the wheeled undercarriage (M = mobile).
All the models in the new LH series incorporate a large number of new features and technical innovations that enhance the cost-effectiveness of these Liebherr material handlers still further: for example, the engine technology developed and manufactured by Liebherr itself, which complies with the Stage IIIB / Tier 4i exhaust emission limits.
First displayed at the 2013 Bauma, the LH 30 M is a classic, highly versatile all-rounder. Whether loading trucks or rail wagons, supplying scrap to the metal shears, performing sorting work or frequently occurring material movement work, this powerful handler delivers top performance every time.
The LH 30 M is powered by a four-cylinder IIIB-generation Liebherr diesel engine with a particulate filter for exhaust emission post-treatment. With a displacement of more than 7 litres and a power output of 129 kW (175 hp) available at an engine speed of only 1,800 min-1, this new handler makes highly efficient use of fuel at low engine speeds.
The LH 30 M contains many components of Liebherr's own manufacture: as well as the diesel engine they include hydraulic pumps, the travel motor, the slewing gear drive, the slewing ring and various hydraulic jacks and rams. Precise matching of these key components to one another maximises load capacities and speeds up the machine's working cycles, making it more economical in use.
The driver's cab of the new LH 30 M can be continuously varied in height by a hydraulic elevating mechanism, so that the best possible view of the work area is obtained. This excellent visibility makes operation safer as well as speeding up the material handling rate. The cab is of generous size, with a well-planned layout. The Liebherr driver's seat can be adjusted in height and also to allow for the driver's weight, which makes a consistently high standard of work possible.
This new material handler is extremely stable: loads can be lifted and moved from place to place quickly, with full use being made of the machine's performance potential. The working equipment specification of the Liebherr LH 30 M can be chosen to satisfy the intended tasks ideally. In addition to classic operation with a suspended grab, the machine can for instance be operated with a sorting grab or used to feed scrap metal shears.
The extensive range of working equipment and attachments available from Liebherr includes bulk material and orange-peel grabs and sawn board and timber grapples. An electromagnet with power supply system can of course be supplied if ferrous materials are to be handled.