Cat® 785D WTR, 777G WTR, 775G WTR and 773G WTR Truck Bare Chassis for Specialty Applications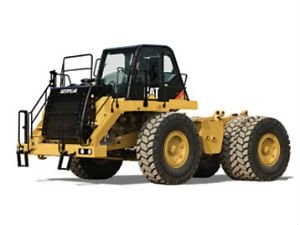 Caterpillar now offers bare chassis configurations of several CatÒ Off-Highway and Mining Trucks for the increasingly important water truck market. The WTR configurations are available for the Cat 785D Mining Truck, 777G, 775G and 773G Off-Highway Trucks (Tier 4 certified and Tier 2 equivalent).
The WTR configurations have unique standard and optional attachments specific to specialty applications like water trucks. For example, they can be ordered with or without hoist cylinders. The ROPS structure on the WTR chassis is certified to the ISO 3471 Tractor rating. And beginning January 1, 2013, the 777G WTR chassis can be ordered with the optional Cat Water Delivery System.
NOTE: The WTR configurations can be utilized as the base machine for tow tractor applications; however, the entity converting this configuration to a tow tractor will need to ensure that the finished product meets applicable requirements for roll over protective structure ("ROPS"), braking, steering, sound limitations, operating performance, weight limitations, etc. As sold by Caterpillar, the WTR chassis configurations are certified as rigid frame hauling units only.
CatDealers can order WTR configurations through their normal machine order channels. The Cat Dealer or end-user customer is responsible for purchasing the water tank from a variety of tank manufacturers around the world who can also assemble the tank onto the chassis. Caterpillar OEM Solutions Group has engineering resources to assist with water tank, water delivery system and control integration.
Following are tables of suggested tank sizes and weight limits by WTR configuration:
Water Tank Size Model* L (gal) - Approximate 773G WTR 45 400 – 49 200 (12,000 – 13,000) 775G WTR 56 750 – 64 340 (15,000 – 17,000) 777G WTR 68 100 – 75 700 (18,000 – 20,000) 785D WTR 113 562 (30,000) *Tier 4 certified and Tier 2 equivalent.
Targeted Gross Machine Operating Weight Model* kg (lb) 773G WTR 102 740 (226,503) 775G WTR 111 812 (246,503) 777G WTR 164 654 (363,000) 785D WTR 249 476 (550,000) *Tier 4 certified and Tier 2 equivalent.