Cat® Water Delivery System Unleashes Additional Savings for Mine Operators Utilizing Water Trucks based on Cat 777G Off-Highway Trucks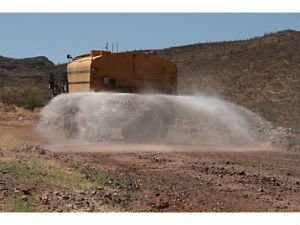 Beginning second quarter 2013, Caterpillar will offer a water delivery and control system for the bare chassis configuration of its 777G Off-Highway Truck. An optional attachment, the CatÒ Water Delivery System (WDS), when ordered, includes a unique cab configuration with factory-installed controls, programmable dash display and torque converter pump drive. The bare chassis configuration can also be ordered without WDS, which then negates the special cab, controls, display and pump drive.
The Cat water delivery system uses a self-contained hydraulic system that controls spray patterns and allows for a consistent spray width regardless of engine rpm. The system is capable of spraying up to 1200 gal (3785L) per minute at speeds ranging from 3 to 25 mph (5 to 40 kph).
System controls within the unique cab include a programmable display monitor, keypad and water cannon joystick that can be customized with a keypad that is backlit for nighttime operation. System functionality includes automatic shutoff when the water tank is empty, soft pump startup and shutdown, self-cleaning spray heads, customizable spray patterns, automatic start and stop based on ground speed, side spray shutoff for on-coming traffic and remote tank fill controls. Many of these functions are aligned with mine safety initiatives collected through voice of customer activities.
Preliminary field follow data point to water savings obtained by minimizing overlap, fuel savings and productivity improvements due to fewer tank fills, reduced haul road maintenance and less tire wear.
Parts and service support is available through the worldwide network of Cat Dealers.
Company info
Related products