Global innovation in the Contractor market: New mobile jaw crusher generation from Kleemann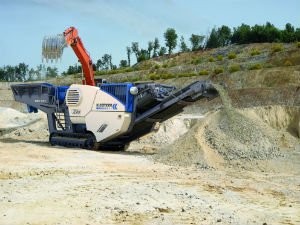 Klleemann's new jaw crushers Mobicat MC 110 Z and MC 110 R, which further expand the successful EVO Contractor Line of Kleemann. Also here EVO represents a redevelopment of the entire plants, real progress in terms of power and efficiency.
Complete new designs
The plants of the new Mobicat EVO series have been redesigned from scratch, thus allowing the combination of new features such as the hopper walls integrated in the chassis or a fully hydraulic crushing gap adjustment with tried-and-tested concepts like the independent double-decker pre screen, making the plants even more diverse and efficient.
Crusher direct drive, electric auxiliary drives
Similar to the mobile impact crushers in the Mobirex EVO series, drive variants with direct drive crushers and electric drives for the vibrating conveyors, belts and the pre screen, are now used for the mobile jaw crushers. This means extremely efficient operation and allows optimal loading of the crusher. The so-called CFS (Continuous Feed System) controls an even more equal loading of the crushing area, in which the conveying frequencies of the feeder trough and the pre screen are adapted independently of each other to the level of the crusher and thus help increase the performance significantly.
New crushing unit with hoisted crusher jaw
The new crusher impresses with its hoisted articulated crusher jaw, which on the one hand prevents blocking of coarse material and on the other hand takes all fastening elements of the crusher jaw from the wear area. In addition, the transfer from the pre screen or the feeder trough is designed so that the material can simply tilt into the crushing jaw and convey an even material flow. With this property and other features Kleemann achieves outputs of up to 300 tons per hour.