Soil compaction, rock crushing and more besides: the Hamm VC compactors with crusher drum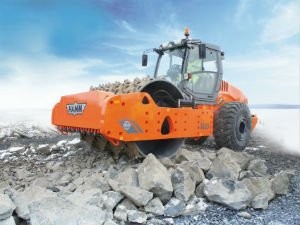 The VC compactors work with a radically new, highly versatile crusher drum. The name says it all, because it is able to simultaneously crush and compact a wide variety of construction and mineral materials. A quick-change toolholder system enables different tools to be used opening up a range of applications extending from road construction and earthworks to route preparation in tunnel and rock construction.
Compaction and rock crushing in one work step – saving time and money. Unlike existing solutions however, Hamm VC compactors with crusher drums are not specialists restricted to a single task, but highly-talented all-rounders. To create it, the Hamm developers have taken the tried and trusted machine concept employed in their compactors and combined it with an innovative and exceptionally adaptable drum, unique of its kind in the world.
Rock crusher and more
At the heart of the new compactors is the VC roller drum. VC stands for Vibration Crusher. And that is exactly what the machine was designed to do. It uses its vibrating, tool-equipped drum to crush and loosen rock and concrete. The VC compactors have even more talents however, because their specially developed quick-change toolholder system can accept a wide range of tools. This feature allows the drum to be used not only as a rock crusher or to pre-crush and loosen rocky ground, but also as a padfoot roller.
To enable customers all over the world to take advantage of this new technology, Hamm is offering two VC compactors: the H 25i VC with a 160 kW Tier 4i-/ EU IIIB engine and the 3625 HT VC with a Tier 3-/ EU IIIA engine developing 155 kW.
The quick-change toolholder system brings flexibility
A total of 150 quick-change toolholders are welded to the drum. A wide range of tools can be attached to them in a few simple steps. A typical example is the fitting of special padfoot attachments. These turn the VC compactor into a padfoot roller. For crushing or loosening rock, the patented drum is fitted with picks developed specifically for this purpose. Their geometry and the differently shaped solid carbide tips are specially designed for rocks with different compressive strengths. Hamm offers a range of cutting tool types for earth and rockwork tasks.
The design of the quick-change toolholder is just what you would expect from Hamm – well-thought-out and ergonomically outstanding. It enables tools to be swapped quickly; it is less susceptible to the adhesion of dirt and easy to clean. Incidentally: When changing tools, the solid carbide tools are levered out of the holders without damaging them in the process. Instead the cutting tools and padfoot attachments can be reused a number of times until they are worn out.
A huge range of applications
The wealth of tools available results in an exceptionally wide application spectrum for the VC compactors with crusher drum. Equipped with padfoot attachments, the machine can compact cohesive soils. Fitted with picks, the crusher drum breaks up rock layers consisting of basalt, granite or minerals of comparable compressive strength as well as mixed soils, while compacting the soil to a great depth.
Roadbuilding applications include homogenisation of rock or breaking up concrete as well as compaction during cold recycling. The VC compactors can also be used to create deliberate cracking in concrete and to break up structures.
There are also numerous potential applications in the preparation of routes in rocky terrain, from preliminary rock breaking to the preparation and maintenance of access ways in quarries up to track laying in tunnels or mines.
Resource-conserving process optimisation
A further advantage of VC compactors is their environmental friendliness on account of the fact that their use eliminates a large number of transport and handling steps. This simplifies the process, reduces fuel consumption and saves a great deal of time and expenditure. A typical example of this is hard rock crushing with simultaneous compaction, one of the most important applications for VC compactors. A much smaller number of excavators and crushers are needed, depending on the material involved.
Another resource-conserving application is the pre-crushing or loosening of rock for recycling in situ. With the aid of the VC compactor, construction materials are broken up and compacted on site, before being processed by the cold recycler without the need for additional transport.
Efficiency can also be increased by fitting the drum with interchangeable pads. When compacting extremely abrasive, fine-grain minerals, the padfoot elements can simply be replaced as a wearing part, rather than replacing the complete padfoot drum.
Last but not least, the VC compactors have a wealth of uses in the preparation of routes in rocky terrain, such as the loosening of hard ground, tracklaying or the reinstatement of quarries. Another example is the pre-crushing of rock prior to removal by cold milling. Experience gained in tunnel building shows that milling capacity can also be greatly increased with the crusher drum.
Intelligent details ensure operational reliability
The VC compactors with crusher drum are also exceptionally thrifty in terms of fuel consumption and other operating costs thanks to the Hammtronic machine control system fitted as standard. It optimises the engine output and adjusts the operating conditions of the travel and vibration drives to the ambient conditions.
Hamm has developed a special device for transporting the crusher drum. It enables the machine to travel and manoeuvre on any surface, without damage to either the tools or the surface.
The rear axle tyres are also designed for hard work in rocky terrain. Special EM tyres ensure that the new VC compactors with crusher drum can make reliable progress even in the most difficult terrain.