Oscillation is now also available for compact rollers: Hamm adds four models to the HD CompactLine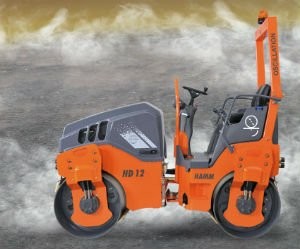 Hamm is presenting four newly developed oscillatory rollers. Alongside the new oscillatory models, the compaction technology trendsetter is also showing a new combi roller as well as many interesting items of optional equipment such as driver's cabs and grit spreaders in Munich.
Hamm dominates the compact tandem roller market segment worldwide with the HD CompactLine. Now with a total of 16 models, it is the largest model range in the sub-4.5 t weight category on the market. The trade has expressed particular interest in the four newly developed oscillatory rollers because they enable the use of the environment-friendly and efficient oscillatory compaction by compact machines for the very first time.
New: four models with oscillatory rollers
Thirty years after Hamm revolutionised compaction technology with the first oscillatory rollers, this intelligent technology is now making its debut in the sub-4.5 t weight class at Hamm. A total of four models with oscillatory drums are planned, identifiable by an "O" in the name: HD 10 VO (2.6 t), HD 12 VO (2.8 t), HD 13 VO (4.0 t), HD 14 VO (4.4 t).
The advantage of oscillation is that it achieves a very fast increase in compaction because the drums direct tangential thrusting forces into the material to be compacted while remaining constantly in contact with the ground. The combination of continuously acting static load and changing dynamic shear forces in the material bring about a faster, better and more gentle compaction. Moreover the amplitude and in turn the compaction power adapt automatically to the stiffness present. In contrast to other manufacturers' solutions, Hamm is alone in achieving this effect without costly electronics, but rather through intelligent application of the laws of physics.
Wide application spectrum for oscillatory rollers
With the construction of oscillatory rollers in this weight class, Hamm is responding to the increasing demands for high-quality compaction even in extremely small areas. Oscillation undoubtedly increases compaction speed and quality. Applications can be found in urban centres for example. Up to now, tandem rollers have only been able to operate in static mode on narrow construction sites. In future, oscillatory rollers will compact dynamically, on account of the fact that oscillatory compaction does not disturb buildings or pipework below the road surface through vibration. At the same time, a better compaction result is achieved faster.
Oscillation also optimises compaction at interfaces to existing road surfaces. Up to now, this area has called for particular care when undertaking minor repairs or when compacting alongside kerbs. Soon, with oscillatory rollers, it will be possible to compact dynamically and thus more effectively than at present, because this technology does not damage the cold asphalt.
During the compaction of thin layers on tack coat or spray seal, hot on hot (DSH-V), and other thin asphalt layers, the high compaction speed makes a noticeable improvement. A further plus point in favour of oscillatory rollers is that they also work very efficiently on cooled asphalt.
Another application is in the compaction of open-pore asphalts. The HD 14 VO is of particular importance for this application, on account of the fact that it can cover large areas with its low static linear load and broad working width.
Last but not least, oscillatory compaction also optimises many landscaping applications. Water-bound path surfaces or asphalt cycle paths can be compacted significantly more efficiently with the new rollers then heretofore.
bauma premiere for the 1 m HD 10C VT combi roller
The Hamm HD 10C VT combi roller is also set to make its debut at bauma. The smallest combi roller in the CompactLine with a working width of 1.06 m and operating weight of 1.5 t, comes with permanent all-wheel drive as standard, in common with the tried and tested HD 8 and HD 10C tandem rollers. This distinguishes it from all other compact rollers in this size and gives it outstanding climbing ability in all situations.
Drivers' cabs for the 4 t class
bauma 2013 is not only about new models however, some interesting options will also be on show. For example, Hamm has developed a fully-enclosed driver's cab for the largest models in the compact class, the HD 13 and HD 14. The panoramic cabin features full height glazing and provides an outstanding overview of the construction site. There are no external struts to restrict the field of view. This means that the driver can see the outer roller edge in every position. Steps on both sides as standard enable the driver to get on and off safely away from the traffic, even on narrow building sites. As you would expect, Hamm has also thought about all the other niceties and safety features: heating, radio, screen wipers, four halogen headlights (H9) at the front and two rear spotlights are the most important cab options. A highlight of these large compact rollers is their very high centrifugal force. The HD 13 and HD 14 models achieve compaction performances which bear comparison with rollers in the 7 t class. The tandem vibration and combi rollers with cabin thus form an ideal alternative to traditional medium weight tandem rollers and complement the machine fleet for major asphalt construction sites.
Two grit spreaders for twelve models
Hamm has recently begun to offer its own grit spreaders for the CompactLine. They form the perfect complement to the rollers for repair work on motorways or other heavily used roads. The linear spreader has stepless adjustment and is operated from the driver's seat. The highlight is a Hamm-developed diffusion grille in the spreader that produces a remarkably even distribution pattern. The grit spreader is available in two spreading widths (1 m / 200 l or 1.20 m / 240 l). The mounting point close to the machine frame ensures a favourable weight distribution. The spreaders can be mounted easily using a forklift truck and can also be fitted as an upgrade to existing models.
Drum lighting for quality and safety
Hamm has included an extremely bright drum lighting in its programme for the entire CompactLine, available as of today. The environment-friendly LED lighting brings good illumination to the working area in front of and behind the drum. This makes the roller drivers independent, able to work safely and see where they are compacting. This is a quality and safety feature for the compact rollers which frequently work at the end of the roller group – in an area that is often only poorly illuminated at night.
Hinged scraper
Another new option for all CompactLine models is the hinged scraper. It keeps the rollers clean while compacting and can be hinged out of the way by means of a foot pedal for replacement or cleaning – it couldn't be easier!
Related Articles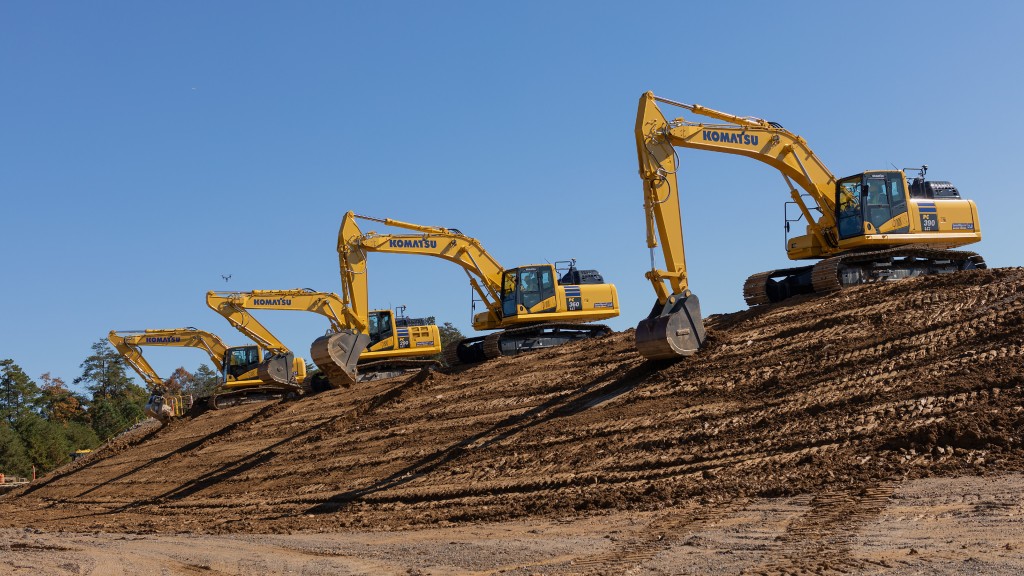 Intelligent Machine Control 2.0 from Komatsu adds productivity to excavators