TanGO at BOMAG! Tandem Rollers with Tangential Oscillation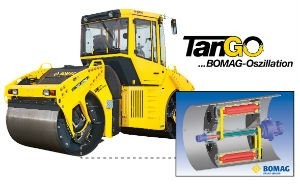 BOMAG presents Tangential Oscillation (TanGO) on its new BW161ADO-4 tandem roller model. This well established exciter system has been assessed and further optimized in key areas. The defining result is clearly improved power for vibration generation and perfectly matched compaction parameters, along with reduced drive belt maintenance requirements.
BOMAG oscillation makes use of the physical laws of vibration generation to its best effect. The careful coordination of exciter system to drum weight ratios is the basis for BOMAG's tangential oscillation. Target applications for this compaction technology are on bridge structures and for working in close proximity to buildings. Usage for intermediate and finish rolling are additional proven applications.
With TanGO always directed horizontally, it maintains continuous ground contact and efficient compaction results are often able to be seen immediately after a few roller passes. The interaction of TanGO oscillation from the rear drum and traditional vibration power from the front drum provides practical advantages on difficult-to-compact asphalt mixes. This directly leads to achieving desirable smoothness and density results.
Contractors are given a sound investment with the modular design concept coupled with an extremely wear-resistant drum wrapper surface. The drum wrapper shell is covered by an 8 year/8000 hour warranty.
BOMAG is planning further TanGO introductions into other roller weight classes going forward. This unique offering complements BOMAG's complete line of compaction rollers and expands its industry-leading product range that includes its Asphalt Manager and ECONOMIZER innovations. Multiple solutions are readily available from BOMAG as a single source.