Wirtgen rounds out new generation of cold recyclers and soil stabilizers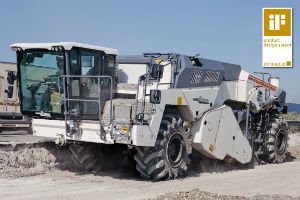 Maximum quality every time – the WR 240 already delivered this level of performance when it was introduced to the market in summer 2012 as the first representative of the new-generation cold recyclers and soil stabilizers.
New standards in cold recycling and soil stabilization
With the world's largest line of recyclers and soil stabilizers, Wirtgen has the right solution for every application. For example, the WR 240 is considered to be an all-rounder for the heavy-duty stabilization of large areas of non-cohesive soil, and for the conservative cold recycling of damaged asphalt layers. A variety of new features make it a pioneer in terms of performance and cost-efficiency, and it has impressively demonstrated both of these in practical use in recent months, as the exclusively positive feedback from customers confirms. Despite its higher productivity, the WR 240 consumes significantly less fuel thanks to state-of-the-art engine management, and therefore considerably reduces costs for contractors. What is more, their machine operators praise the large, modern cabin, the all-around view it affords, the machine's improved manoeuvrability, its optimized ergonomic design and its intuitive operation.
A small compact machine (WR 200) meets a powerhouse (WR 250
Wirtgen is presenting the WR 200 at bauma 2013, a smaller version of the WR 240. It boasts nearly identical features for both cold recycling and soil stabilization. It shows off all its capabilities in these applications, specifically its maneuverability on small, tight construction sites. Furthermore, it requires no special transport permits and is therefore ideal for one-day jobs.
The WR 250 is the most heavy-duty machine of the new WR generation. This powerhouse is designed for stabilizing heavy, swampy soils and comes into its own on recycling and pulverization jobs, where it turns roadways up to 25 cm thick into homogenous granulate. What is new is the option of also operating the milling drum from the cabin, making it possible to flexibly activate a number of milling drum speeds. The milling drum design tailored to the WR 250's high output helps to achieve outstanding mix quality at a high feed rate.
If product design award in gold for the Wirtgen WR 240
In addition to their innovative features, all three models lastly win out with their ultra-modern design. The WR 240 even won the iF product design award in 2013 in gold, one of the world's foremost design prices.
Company info
Related products