Cold milling machines: Global market leader Wirtgen expands product portfolio and presents innovative features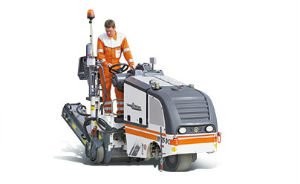 Wirtgen is presenting no less than eleven models from its cold milling machine division in Munich – a representative cross-section of its complete product range of small to large milling machines. The so-called "i" machines are also making their debut at bauma. The "i" stands for "intelligent emission control", an eco-friendly drive technology with which the company has converted its complete machine fleet to the new engine technology.
Cold milling machine division completely converted to new engine technology
"As the market leader, it goes without saying that we comply with the statutory provisions regarding emissions legislation and supply our customers with the matching machine technology in their respective markets around the world. The fact that we have also overcome this challenge in the cold milling machine division is testified to by the eight "i" machines that we will be presenting to the trade public at bauma 2013", explains Bernd Holl, Product Manager for Cold Milling Machines at Wirtgen GmbH.
In addition to the eco-compatible operation made possible by the new engine technology, Wirtgen has also developed numerous innovative features that further improve milling with machines ranging from the small W 35 DC all the way to the large W 250i and ensure optimum working results. These will likewise be on show at bauma.
Rapid Slope ensures even better evenness
The new features include the new Rapid Slope slope sensor, which makes the Level Pro automatic leveling system developed by Wirtgen even more efficient. The Level Pro automatic leveling system is fully integrated in the machine control system and enables the milling depth to be precisely adhered to with the help of various sensors. One outstanding feature is the intuitive and application-oriented operation with clear graphic displays and function keys. The new Rapid Slope cross slope sensor marks a revolution in the levelling process. The sensor boasts extremely fast and highly accurate recording of measurements. At the same time, these measured values are processed in complex computations and forwarded to the machine control system. Wirtgen cold milling machines hence achieve hitherto unparalleled precision in cross slope profiles. This allows considerably higher milling speeds with the same levelling quality.
In combination with the newly developed telescoping levelling beam for scanning reference points up to 3.5 m to the side of the machine, Rapid Slope itself guarantees optimum milling results even when faced with the most complex levelling tasks.
Greater economic efficiency thanks to "Flexible Cutter System" from Wirtgen
The "Flexible Cutter System" or simply FCS enables milling drums to be changed quickly and easily. Wirtgen has continuously optimized the system over the past 15 years. Swift conversions mean that companies can use one machine for various types of work. The range of FCS milling drums with different working widths and spacings is vast. Depending on machine, no more than 0.5 to 1.5 hours are needed to change the milling drum, quickly converting the cold milling machine from a standard milling machine to a fine milling machine, for instance. Removing rutting from a country road, fine milling a surface prior to applying a thin layer, or removing coatings from an asphalt or concrete pavement with a micro fine milling drum – all of these jobs and more can be carried out with one and the same cold milling machine. The range of cold milling applications with FCS is tremendous.
FCS Light allows wide range of applications
Practical experience has shown that especially using Wirtgen cold milling machines equipped with FCS allows rollers with different spacings to be used with a constant working width. This is why Wirtgen has developed a simplified version of its FCS system called "FCS Light". This enables milling drums of the same width to be changed extremely quickly, so that a variety of different milling jobs can be carried out in quick succession.
HT22 quick-change toolholder system: Longer service life, less downtim
By developing the new HT22 quick-change toolholder system, Wirtgen has succeeded in significantly increasing the maximum service life of both the upper part of the quick-change toolholder system and that of the milling drum. The overall more robust system also means that the service intervals for checking the bolt pre-tension can be increased from 250 hours to 500 hours. The reliable and simple bolt connection has already passed muster in the two-year-plus prototype phase of the new HT22 quick-change toolholder system.
Generation X point-attack cutting tools: Increased production at lower costs
Generation X is the new series of point-attack cutting tools developed by Wirtgen in close cooperation with long-standing system partner Betek in Aichhalden. The result is a robust cutting tool with greatly optimized wear resistance that cuts exceptionally well at high milling output rates. For instance, the new point-attack cutting tools can be used for as much as 20 percent longer under consistently high milling output rates than conventional point-attack cutting tools on account of the innovative geometry of their carbide tips. The optimized guidance of the point-attack cutting tools in the toolholder system also reduces longitudinal wear on the toolholder. Like the HT22 quick-change toolholder system, the Generation X series of point-attack cutting tools will make its public debut at bauma and will be available from mid-2013.
Innovative customer solutions
With the expansion of its cold milling machine programme and new technical developments, Wirtgen provides innovative solutions that offer customers around the world substantial added value for their day-to-day job site operations, also thanks to their own assistance, explains Mr. Holl: "Thanks to our customer proximity, their suggestions from real-life projects are constantly channelled into the further development of our high-performance machines and intelligent features. This means we can develop solutions that enable further cost optimization of milling operations and optimum milling results."
Visitors to bauma can experience a cross-section of the broad product range of Wirtgen cold milling machines, where the W 35 DC, W 50, W 50 DCi, W 100i, W 100 Fi, W 120 Fi, W 150i, W 200i, W 210i, W 220 and W 250i will be on display.