Terex Construction, TLB840 Backhoe Loader, TC37 Compact Excavator, PT60 Compact Track Loader, TSR50 Skid Steer Loader and Loegering Versatile Track System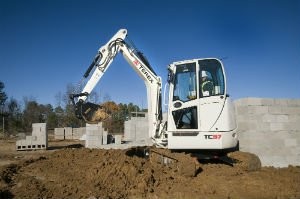 TLB840 Backhoe Loader
The TLB840 backhoe loader is engineered to excel in digging, reaching, lifting and loading applications, making it a versatile addition to your rental fleet. The TLB840 boasts an 88-hp Perkins engine and is powered by an optional 4-speed servo power syncro transmission with automatic shifting, delivering fuel efficiency and high tractive effort. With a loading height of 11 ft 3 in, the TLB840 can easily load high-sided trucks, and with a 10,485 lbf bucket breakout force, a loader lift capacity of 7,291 lbf and bucket capacity of 1.32 yd3, this backhoe loader offers high-capacity production.
The TLB840 is designed to be rental tough, with heavily reinforced loader towers for strength and rigidity, a new cast hard nose counterweight for weight distribution and component protection and box section sides from front to rear for durability. Servicing is also made easier via the machine's fully tilting hood which is easily accessible from ground height. Self-adjusting brakes reduce maintenance activity, and new externally adjustable stabilizer wear pads are simple to service or replace. The machine comes with 18 in front wheels and 24 in rear wheels which means tires are readily available and cost-effective to replace. Built-in lifting eyes and tie downs are in place to make transportation from job site to job site safer.
To further increase the machine's versatility, the TLB840 is available with the highly acclaimed 7-in-1 front bucket arrangement as an option, which allows it to be used on a variety of applications, from site leveling to loading high-sided trucks. Operated using a single bucket cylinder, the front bucket uses fewer component parts thereby reducing maintenance routines and driving down operating costs.
For the operator's ease-of-use, the TLB840 also has a curved boom design that offers greater clearance to reach over obstacles and the ability to load closer into trucks for greater productivity. With a dig depth of 14 ft 4 in (extended to 17 ft 8 in) and a reach up of 18 ft 9 in (extended 21 ft 10 in), the Terex TLB840 is designed with a slew system that provides high torque for easier backfilling and slewing uphill. For high-productivity trenching, this backhoe loader brags 7,961 lbf dipper tearout and 11,897 lbf bucket tearout.
TC37 Compact Excavator
Designed to turn 360 degrees within the width of its tracks, the TC37 zero tail swing excavator is at home in confined and restricted areas. Ideal for a wide variety of applications such as utilities, drainage, construction and landscaping, this mini allows operators to get up close and personal in places where conventional excavators can't fit. Easy access, enduring quality and expert positioning of key components help make Terex mini excavators quick and easy to service and maintain. Built to be durable, the TC37 has top-mounted boom cylinders for the perfect protection of its cylinders and has end-position cushioning on all lifting frame cylinders to reduce wear and provide smooth operation. For servicing, The one-piece bonnet can be easily opened and lifted without tools, making the starter, generator, battery, injection pump and fuel and air filters easily accessible.Weighing in at 8,047 lb, the TC37 offers a maximum digging depth of 11 ft 1 and a reach of 18 ft 6 in. The 32.5-hp Mitsubishi 4-cylinder diesel engine and hydrostatic drive delivers the speed and power needed to dig, load, lift and place material like the big boys. This unit has a bucket capacity of 1.4 – 4.6 ft3.
PT60 Compact Track Loader
The 60-hp Terex PT60 is a high performance compact track loader with exceptional power and versatility ideal for construction, landscaping, utility and private owner applications. This loader produces incredible traction and low ground disturbance. It features a patented Posi-Track™ suspended undercarriage technology and two-speed drive motors.
As a result of the exposed runners and supporting rollers, the PT60 also benefits from low operating costs as stones and dirt fall out during operation instead of becoming trapped and damaging components. Without steel reinforcements, the tracks have long service lives as they aren't subject to rust or corrosion damage. If necessary, most of the undercarriage components can be individually replaced – allowing each and every track, drive sprocket and roller to be used in the most effective way. The tip cylinder is also mounted inside the arm to protect from damage. A loader-mounted quick-attach interface gives the PT60 the versatility of using virtually any industry-standard attachment. In addition, the machine fits onto almost any car trailer due to its narrow transport width.
TSR50 Skid Steer Loader
The TerexTSR50 radial lift path skid steer loader boasts an 50-hp, turbocharged Perkins engine with load sensing, variable flow hydraulics and has a rated operating capacity of 1,500 lb with 115 in of lift height and 22 in of reach. The engine and hydraulic combination on the TSR50 offers 8,453 lb of tractive effort, giving the wheels excellent pushing abilities. The push power and loader breakout forces on Terex radial lift path skid steer loaders allow these units to perform digging and grading tasks efficiently.
The TSR50 offers 10.5-in ground clearance and 28.3-deg rear angle of departure. These features improve the ability of the machine to traverse soft, uneven terrain, making the workday more productive and less frustrating. For quick cycle times, a powerful drive train with optional 2-speed transmission propels Terex loaders to the fastest top speeds in their class — up to 12 mph. Terex loaders also offer increased fuel capacities over other brands, a 25-gal fuel tank on the TSR50, that translates to longer operating times between refueling.
Loegering Versatile Track System
With the Terex Loegering Versatile Track System® (VTS), skid steer operators can have the best of both worlds — tires and tracks. VTS offers skid steer operators the ability to run their machine with tires or as a full rubber track undercarriage system with suspension, depending on the application. Operators are able to convert their skid steer loaders to a track loader in under an hour.
VTS is a complete rubber track undercarriage that bolts directly to a skid steer's standard hubs. It utilizes forward placement of the front idler wheel to maintain flotation, as well as stability. By placing the front idler significantly ahead of the front hub position, the VTS is extremely stable when digging and backing out of trenches as well as when hauling and dumping heavy loads. VTS tracks provide bi-directional suspension, which adjusts independently from one side of the machine to the other. The suspension automatically applies the track undercarriages back to the ground maximizing track foot print, evenly distributing horsepower on uneven terrain. In addition to increased traction and flotation, the rear idler positions the track underneath the ballast of the machine, providing stability for grading up inclines and traversing side hills.
Company info
Related products