Doosan P185 air compressor makes the best even better with performance enhancements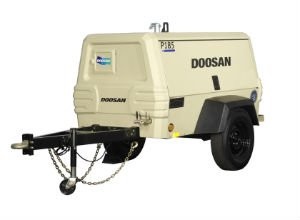 The Platinum Series P185 portable air compressor from Doosan Portable Power combines the most valued features of the P185 legacy air compressors with design advancements that offer superior performance and value for rental customers. Powered by a high performance 48-horsepower Tier 4 Interim John Deere or Yanmar diesel engine, the P185 air compressor provides 185 cfm at 100 to 125 psi.
The noise level of the P185 air compressor has been reduced by 50 percent and now leads the industry. Fuel efficiency has been increased by 21 percent, providing for a best-in-class 10-hour full load runtime on one tank of fuel. Both cooling capacity and altitude performance have been improved to make the P185 air compressor an indispensable solution in more geographic areas than ever before.
Enhanced from the inside out, a look inside the P185 will reveal design and technology enhancements that make the best 185-cfm air compressor on the market even better. Tool box space is increased by 33 percent over the previous model, allowing for generous tool storage extending the full length of the frame.
Ease of maintenance is assured with a spinon separator element, designed-for-service component locations and electronic engine diagnostics capability. The P185 has been engineered with a remote separator element, which is a simple, spin-on design that eliminates the need to enter the separator tank and prevents spillage during oil changes.
Another added bonus to the P185 air compressor's serviceability is the addition of an electronic diagnostic module. This module allows for quick troubleshooting with a single-digit diagnostic code display upon unexpected unit shutdown.