Light compaction by Doosan Portable Power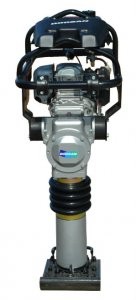 RX-Series Upright Rammers Deliver Wellbalanced, Hard-Hitting Compaction
Doosan Portable Power RX-Series upright rammers - RX-264H and RX-344H - deliver industryleading impact in an operator-focused design. These rammers were engineered for compaction of materials ranging from mixed and cohesive soils to heavy clay, and are ideal for applications including backfilling and narrow trench compaction, as well as utility work, trenching, curbing, drainage work, and foundation and masonry base preparation.
The models are equipped with Honda recoil-start, four-cycle engines. Impact force is applied to the compacted material by a durable wooden foot, which is reinforced with a heavy steel plate for extended life. The average impact per blow ranges from 2,600 pounds delivered by the RX-264H, to 3,400 pounds delivered by the RX-344H. The units operate at 600-650 blows per minute.
The models feature a low-profile, lightweight design with a low center of gravity, providing greater maneuverability and control around jobsite obstacles.
Bxr-Series Reversible Vibratory Plate Compactors Packed With Power And Productivity
Doosan Portable Power offers a full line-up of reversible vibratory plate compactors offering high compaction performance and smooth movement for maximized productivity in graded aggregates, sand and mixed soils. Each model includes dual eccentric shaft technology for maximum compaction force and productivity, and a reversing mechanism allowing operators to easily change direction with a single layer.
Among the models offered is the BXR-60H, which weighs 158 pounds and provides 3,417 pounds of centrifugal force. The unit is powered by a rugged and reliable Honda GX120 fourcycle gasoline engine, and has a plate size of 14x19 inches. The BXR-60H is recommended for a maximum compaction depth of 13 inches.
Bx-Series Single Direction Vibratory Plate Compactors Provide Optimal Compaction In Compact Sizes
Doosan Portable Power single-direction, vibratory plate compactors are suitable for any application, providing contractors with operator-friendly features that make for more efficient, convenient operation. These compactors offer the highest centrifugal forces in the industry, and are ideal for compaction of granular soils, crushed aggregates, and hot mix asphalt on small- to large-sized open jobsites.
Among the models offered is the BX-60WH, a premium model which has an operating weight of 182 pounds, delivers a centrifugal force of 3,400 pounds and a vibration frequency of 5,600 vibrations per minute. It travels a maximum speed of 82 feet per minute, with area capacity covering 6,943 square-feet per hour. The recommended compaction depth of the BX-60WH is 12 inches.