New Doosan G70 mobile generator enhances efficiency in a mid-range package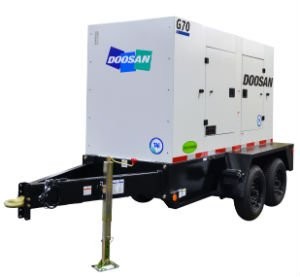 The new G70 mobile generator is powered by a Tier 4 interim-certified Cummins diesel engine with a simple diesel oxidation catalyst (DOC) aftertreatment system, recognized as a superior Tier 4 interim solution as the DOC is a maintenance-free device and requires no regeneration.
A redesign of the new mobile generator from the ground up enhances operator efficiency. In addition, the new design incorporates innovative airflow management to reduce noise.
A voltage selector switch allows operators to choose 120/240V-1Ø, 208V-3Ø, or 480V-3Ø. A shutdown feature stops the machine if the voltage selector switch is switched during operation.
Operators will appreciate the ease of operation, featuring a full array of automotive quality engine gauges with motor-driven movements and CAN bus accuracy. Cool blue LED backlighting with orange needles enhances visibility and clarity - regardless of lighting conditions. The display also features analog meters and LED status indicator lamps for at-a-glance user monitoring of generator output. An LCD display provides trouble code readouts to aid in engine diagnostics in a user-friendly manner; this information is relayed directly from the CAN bus.
Several new options expand versatility, including the availability of the unique Quad Voltage selection feature. A Doosan-exclusive, the Quad Voltage control allows operators to choose 120/240V-1Ø, 208V-3Ø, 480V-3Ø or 600V-3Ø voltage output with the simple flip of a switch.
In cold environments, the optional Tundra Package assures generator operation in temperatures down to -40 degrees F/C with a coolant heater, oil pan heater, battery charger and heater pad, and heated breather hose.