Self-Inflating, Glare-Free Balloon Light Offered By Doosan Portable Power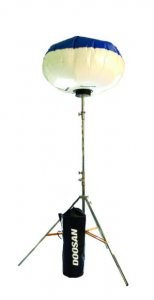 The Doosan Portable Power BL2000 balloon light provides precise illumination in a lightweight package, making it ideal for a variety of applications, including construction, disaster relief, drilling, farming and agriculture, guard rail installation, landscaping, mining, paving, road repair and maintenance, and railroad repair and maintenance.
The BL2000 balloon light plugs into any three-prong, 120-volt, 20-amp outlet and provides 2,000 watts of quiet, glare-free light over a 360-degree area. The unit has a diameter of 43.1 inches, and when placed on an optional mounting system, can stand from 7.5 to 15 feet tall, illuminating up to a 15,000 square-foot radius. The tubular envelope automatically inflates in less than one minute for instant illumination.
Strength and durability are provided in the unit design, which includes a suspensionmounted lamp for protection against rough handling, and an automatic shutoff which safeguards against high internal temperatures. While the unit weighs just 18 pounds, it has the strength to resist wind speeds up to 63 miles per hour.